Building on Fashion
Building on Fashion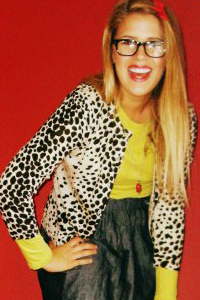 With a major in mass communications and minors in dance, Italian, and public relations, Sharon, Pa., native Christina Grasso '11 looks to a future of her own design in the fashion industry. In the meantime she's knitting together a quality education supplemented with all that Saint Mary's has to offer.
Saint Mary's came highly recommended—by Christina's sister, Natalie Grasso '08. But the College was also everything that she wanted: small, private, Catholic, safe, and beautiful—part of a list that goes on says Christina. "It was a leap of faith, but I could not imagine having my college experience anywhere else."
Christina has made her own way at Saint Mary's; she is a member of the Junior Class Board, Dance Company of Notre Dame, Saint Mary's College Republicans and both the Saint Mary's and Notre Dame Right to Life groups. She has also been active with the Friends with Sisters program, Dance Marathon, and she has studied abroad.
Putting her minor in Italian to the test, Christina studied abroad in Rome during the fall of 2008. "It was by far the best and most enriching experience of my life," says Grasso who had the opportunity to meet the Pope. "My experience in Rome was truly a fairytale and through it I have grown significantly in faith, in self-confidence, and have become a much more worldly young woman."
Two of her professors in Rome made a lasting impression. Mass communications professor Peter Sarram challenged Christina, which she says helped to expand her knowledge and thought processes. Christina noted that Professor Inge Hansen helped her to blossom. "She would take me out to lunch and we would discuss everything from Roman architecture to Coco Chanel. Her classy manner, vast intelligence and eloquent speech truly astounds me and she has become every bit my role model."
Christina's minor in dance has also been nurtured by dance professor and alumna Jaclyn Thompson. "She completely revived my passion for dance and taught me that dance is not about having perfect technique, but simply loving what one does, and I feel this can be applied to any aspect of life," says Christina. "She has so much energy and passion for what she does, and continues to inspire me through her spirit and enthusiasm for doing what she loves even as she has relocated to New York City."
Christina might find herself in New York City someday as she hopes her education will lead her to a career in the fashion industry as a booking editor or fashion editor for a major fashion magazine in the City. "It has been my dream since I was a little girl, and I have made some great connections in the industry that have opened a lot of doors, so I'm very excited to see how things shape up!"