Cambodian Experience
Cambodian Experience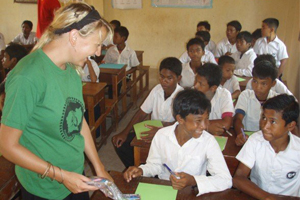 "Experience is the basis of knowledge," says Saint Mary's College senior Allison Fleece, a marketing and international business major. She spent her summer interning with The PEPY Ride in Phnom Penh, Cambodia. The PEPY Ride, a nonprofit organization, seeks to increase education opportunities and offer meaningful volunteer experiences for tourists in Cambodia.
However, Fleece was no stranger to foreign travel. She spent her entire sophomore year abroad with the Saint Mary's Rome Program. "Rome opened my eyes to the world. I got back to the U.S. and wanted more." Fleece filled her void by getting involved with PEPYND, a project which is part of the Marketing and Global Development division of the Student International Business Council. "I was initially attracted to it, because it was international," she says. Her avid involvement with the organization is what led her to intern in Cambodia. "I wanted to experience the PEPY mission first hand and be a more passionate leader for the cause."
Throughout her internship, Fleece worked in the organization's main office on various marketing initiatives and letter writing campaigns. "Aside from basic computer programs, I feel Saint Mary's advanced writing requirement prepared me for writing in a professional setting," she says. "My international business courses opened my eyes to different ways of interaction and communication." Aside from Fleece, many Saint Mary's business majors are also involved in the Student International Business Council. The efforts of SIBC are supported and encouraged by Saint Mary's business administration and economics department.
Fleece said the experience solidified her decision to pursue international business and taught her that she really could work abroad if she wanted to. "There are so many different things I can do with my degree," she says. "I now know I have the potential to benefit the world with my education."
-Amanda Goetz '08