Dance 4 Kids
Dance for Kids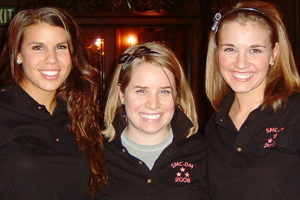 Senior Maura Clougherty is no stranger to volunteering, especially when it comes to helping children. This year she was the fundraising chair for Dance Marathon, in support of Riley Hospital for Children. "I love doing work for Children's Miracle Network; in high school I raised money for St. Jude's [Children's Research Hospital] and our local children's hospital so it seemed perfect," says Clougherty.
The first Dance Marathon, April of 2006, was spearheaded by the 2009 class board of governance. They brought in over $21,000 from dance participants. This year, the 22 member executive committee hopes to raise even more. So far, they have sold Max & Erma coupons and EMX gear. They have braved the weather by collecting money before Notre Dame football games. Committee members have also written letters to parents and friends, urging them to participate by donating money for a good cause.
Clougherty, who studied abroad in Ireland last year, worked on Dance Marathon in 2006. "The best part of the experience was revealing the total at the end of the night and knowing I helped to raise that. We all worked so hard and right then I knew all our hard work paid off."
Clougherty encourages Saint Mary's, Notre Dame, and Holy Cross students to participate. "This is a wonderful, life changing opportunity. Staying up for 12 hours is worth it for someone who is sick, and is not given the same opportunity [as you]."
And you won't be standing around either. Last year, at the Angela Athletic Center, participants were busy line dancing, grooving to beach and movie themes, and live bands. Dancers also heard stories from Riley families and children.
In addition to Dance Marathon, Clougherty is involved in Campus Ministry, and will be the president of the Residence Hall Association (RHA) next year. The speech communications major credits Kirsten Siron, director of Student Involvement, with giving her great advice, and new ideas for Dance Marathon.
Riley Hospital for Children is named for Indiana native and famed poet, James Whitcomb Riley, who wrote the acclaimed poem titled, Little Orphan Annie. In tribute to his passing, a group of Indianapolis leaders formed the Riley Children's Foundation in the early 1900s. In 1924, the Riley Hospital for Children was formed, and 83 years later, the hospital has earned national recognition as a leading research hospital for babies and kids. Today, donations offset patient medical bills outside of insurance, regardless of socioeconomic background.
Photo:Francesca Johnson, Maura Clougherty, Pauline Kistka