From Saint Mary's to MIT
From Saint Mary's to MIT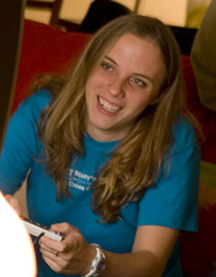 Katie White applied to PhD programs in chemistry, she was nervous but hopeful about the process. How many graduate schools should she apply to? Were the programs she dreamed of too elite to accept her? If she got in, could she compete with the best?
That was then, this is now. After graduating from Saint Mary's last spring with a double major in chemistry and mathematics, Katie is starting a PhD program in chemistry at Massachusetts Institute of Technology (MIT) this fall. She was also accepted to doctoral programs at Johns Hopkins, Emory, the University of Chicago, and two other schools. All of them offered Katie financial support—including full tuition waivers and generous stipends—and MIT awarded her a Howard Hughes Medical Institute teaching fellowship.
Looking back, Katie wonders why she worried. Every school that accepted her flew her in for an all-expenses paid interview, and she met with the professors and students she'd be working with. "Once I got to the visits, I really wasn't intimidated at all," says Katie. "One of the benefits of Saint Mary's is that it makes you a well-rounded student and you can converse on all kinds of topics. In any field, Saint Mary's women do well in interviews."
The professors who reviewed Katie's graduate school applications gave her glowing feedback. "They were all very impressed that I did two semesters of summer research—working at Columbia University's biochemistry lab and at Eli Lilly in Indianapolis. And they were all very excited about my double major in chemistry and math, which probably wouldn't have been possible at another school." (At Saint Mary's, departments sometimes changed class times around to help Katie manage her schedule.)
Katie believes that one-on-one attention and support made her undergraduate experience unique. "When I interviewed at graduate programs, the other applicants I met came from larger schools where they'd only ever had big, lecture-style science classes. But at Saint Mary's, most of my advanced chemistry classes had just a few students, so you had to come to class prepared and really know the material. I think that really gives us an edge."
Katie's success is contagious. All the members of the Saint Mary's chemistry class of 2007 will start graduate, medical, or pharmacy programs this fall, at top universities around the country.