Moving Forward, Giving Back
Moving Forward, Giving Back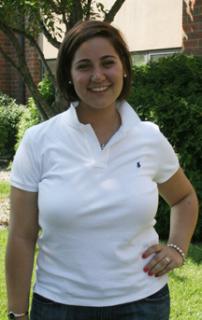 Ever since she was six years old, Cate Cetta has dreamed of a career in the nation's capital. Today the Saint Mary's senior admits that her ideas about how to get there—and what she'd do when she did—were pretty fuzzy. "I just wanted to go to law school, and then go to Washington, and be fabulous," she laughs.
That's all changing for Cetta, who has learned in college that experience is the best teacher. A political science and history major, she developed a passion for international studies after spending a year on the Saint Mary's Rome program. But by junior year, she says, "I realized that law school was not something I was interested in pursuing. I started thinking, what are the things I'm good at?"
To find out, she did a broadcasting internship last year at WNDU-TV, a local television station just across the street from campus. This summer, she's an intern at Women for Women International, a nonprofit organization in Washington D.C. Her job involves developing a strategic media plan for the organization, whose mission is to assist women survivors of war and civil conflict. "It's a lot of responsibility," says Cetta of the assignment, "but I feel like I'm doing something that's real, that's going to help this organization. It's great!"
When she returns to campus this fall, Cetta will have another chance to learn by doing as the student representative on the Board of Trustees. At Saint Mary's student trustees have full voting rights, an unusual status that reflects the College's philosophy that student leaders should be involved in every level of decision-making.
Cetta's commitment to her alma mater runs deep—her mother, Mary Stauder Keefe, is a 1983 alumna who also majored in political science and studied in Rome. Though the two have much in common, Cetta says that students are different today. They're more independent, more interested in internships and study abroad opportunities, and more eager to have input in the decisions that affect them. As trustee, Cetta hopes to build bridges between the College's active alumnae network and current students, while refining her leadership skills and plans for the future.
"If anything is going to allow me to give back to Saint Mary's, it's this," she says, "and I would really like to deepen the Board's connection with students."