Reporting for Duty
Reporting for Duty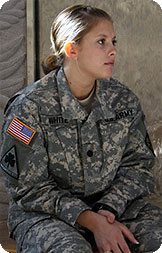 Under Perryn White's military fatigues and quiet professionalism, there's something else: the heart and training of a social worker. It's an unusual combination, but the Saint Mary's senior is pursuing a social work degree with a scholarship from the U.S. Army Reserve Officers' Training Corps (ROTC).
For her major, she attends classes on campus and works two days a week as an intern with Midwifery of Michiana, a local organization providing prenatal care and other services to women.
For the army, she puts on her uniform and attends field training with her battalion three days a week. When she graduates in May, she'll begin a four-year tour of duty that is likely to take her overseas.
White's career path and military service both run in the family. "My mom was a social worker. I don't know why, but I never really recognized it as a career for me until I got to Saint Mary's and took a social work course," says White, who is from Pensacola, Florida. "I like the idea that I can empower someone else by helping them to do things on their own and have a better living situation."
White's grandfather, brother, and sister all served in different branches of the military. She says her brother-in-law urged her to consider the army ROTC program. "It's a good way to pay for college rather than having to use loans. It relieves stress."
What about the prospect of serving in Iraq or Afghanistan—doesn't that add stress? "I'm scared, but ready at the same time. I don't know how close to any action I'll be," White answers. As a platoon leader, she is looking forward to using her social work preparation—which emphasizes relationship building, communication, and understanding the social causes of human behavior.
When her army tour ends, White hopes to work with veterans in a hospital setting. "My social work professors really encouraged me to think about that, just because there's such a great need for it with the war. A lot of veterans are coming back with post-traumatic stress disorder and a lot are disabled and in need of services."
As a former soldier herself, White feels she'll have a unique understanding of the problems facing returning soldiers and their families.