Sister, Teacher, Poet
Sister, Teacher, Poet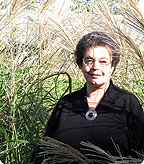 There's something about Eva Mary—Sister Eva Mary Hooker, CSC, writer-in-residence, that is. Perhaps it is her unbridled enthusiasm for poetry and writing. It could be her gentle but relentless exploration of controversial Catholic teachings in the classroom. Maybe it's just her contagious, uninhibited laugh. Whatever it is, Sister Eva has a certain je ne sais quoi that makes her one of the College's most favorite recent additions.
Although she arrived on campus last fall, Sister Eva is far from new to the College. Over the years she has experienced Saint Mary's as a student, a Sister of the Holy Cross, a professor, an associate dean, and now, as a writer-in-residence teaching English literature classes.
Sister Eva's experiences give her a unique window into the College's heritage. She recalls even her early days at Saint Mary's, from 1958 to 1963, in vivid detail.
"It was one of those periods in the history of Catholic culture, in which Saint Mary's was really a center of philosophical thought, Catholic thought, art, music, everything," she says. "It was very exciting, and I loved it. I thought, 'Oh, I've just struck gold.'"
Back then students wore uniforms during the day and dressed up for dinner at night. They didn't have television sets in their rooms, had to get their parents' written permission to take certain classes, and were expected to have "lights out" by 10 p.m. "My roommates and I were all English majors with all these Shakespeare readings to finish, so we would get in the closets with our flashlights," she laughs.
Sister Eva decided to join the Holy Cross community in 1960—at the tender age of 19—but her passion for literature continued. She earned a Ph.D. at the State University of New York, spending a year of her graduate studies at Oxford University.
She is also a published poet. "There's been a long tradition in poetry being a distinctive trait for Saint Mary's. In my new role here, I hope to help students explore and find their voices as poets," she says.
Immersed in writing and teaching, Sister Eva hopes to remain at the College for a long time. "In some ways I think of us as one giant community," she says. "Obviously we are all different ages … but there's something marvelous about living among the vibrancy of students and of young women."
–Emily Lavelle '07