Something More
Something More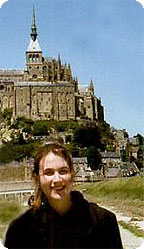 When she graduated from Saint Mary's in 2006, Anne Bouse was one of many women to leave campus with a certain je ne sais quoi. She also had something concrete and unique—a bachelor of arts in French and a bachelor of business administration in accounting —both inscribed summa cum laude.
Bouse started college with high aspirations. "The main reason I chose Saint Mary's, besides the fact that I felt comfortable here, was that I knew I wanted to do four years of college, earn two diplomas, and study abroad for a year," she says. "It would have been difficult to do what I did at another university, but the Saint Mary's faculty was willing to work with me and help me achieve everything I wanted."
Even before she enrolled as a first-year student, Bouse sat down with French professor Renee Kingcaid and accounting professor Mary Ann Merryman to plan her schedule. When classes began, business professor Joyce Hicks and others offered support. Professor Mana Derakhshani's course on business culture in the French-speaking world helped Bouse prepare for the workplace. And in her job as a department assistant, she laughs, "I also learned practical things, like how to say 'stapler'."
Sophomore year, Bouse perfected her language skills, traveled, and soaked up French art while studying abroad in Dijon and Grenoble. "I'm studious, but it's great to have a lot of learning experiences that don't come from books," she says. After junior year, she landed a summer accounting internship in Paris working with a European buying agent for Williams-Sonoma. When the buying agent offered Bouse a job, she kept focused on her original plan and returned to Saint Mary's to finish her degrees. "I think everyone breathed a sigh of relief when it was certain that I would be able to complete my degrees on time," she remembers.
Bouse accepted a position with the International Tax Services group at Ernst & Young in Chicago after graduation. Her colleagues there include Saint Mary's alumnae Lisa Fontaine (also a French major), Kelly Grier, Kristin Bielema, and others. Bouse has used her French to translate documents and to speak with coworkers. She hopes to work abroad again after gaining more experience. Whatever lies ahead, she says, her international experiences set her apart. "It makes you a little bit different … and it definitely gives you a lot to talk about."