Tax Man
Tax Man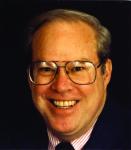 Accounting professor Claude Renshaw's office is practically wallpapered with business cards. Many belong to his former students, who work in accounting jobs around the country. "I keep in touch with my students and receive 20 to 30 phone calls and e-mails a month from alumnae," he says. "Many are updating me on what they are doing or recruiting current students for jobs and internships."
Saint Mary's boasts the largest accounting program of any women's college in the country. Most years, 100 percent of accounting majors have job offers before graduation. Renshaw is a big part of that success. "I owe so much to Professor Renshaw," says Christine Haunert, a junior accounting major. "He has so many contacts for all of his students, and my internship with Deloitte & Touche next summer is a result of his incredible networking system."
Renshaw, a CPA, began teaching at Saint Mary's in 1977. He received his BA and MBA from Michigan State University. In 1998, the Small Business Administration named him Indiana Accounting Advocate of the Year and in 2004, the American Woman's Society of CPAs (AWSCPA) named him Educator of the Year. He is a recent past chairman of the National Conference on Federal Taxes in Washington, DC.
After 30 years, Renshaw has developed a unique teaching style. "I like to make accounting and tax as interesting as I can," he says. "A lot of people have preconceived notions about these subjects, but I try to stimulate responses by injecting humor and other activities into my classes."
Just for fun, Renshaw teams up with University of Notre Dame accounting colleague Ken Milani to write a "Tax Talk" column for the South Bend Tribune, addressing readers' requests for tax advice and planning strategies. He also teaches seminars on tax law to fellow accountants, operates a consulting practice specializing in tax and financial planning, and helps coordinate the Notre Dame/Saint Mary's Tax Assistance Program, where students volunteer to help low-income residents with their tax returns.
For Renshaw, the best part of teaching is seeing students graduate and become talented, capable individuals in their professional lives. Five alumnae are currently partners at major accounting firms and one of them, Bridget O'Brien Anderson '80, was the first Saint Mary's woman to become a partner with KPMG in 1994. "It's really, really rewarding," says Renshaw.