The Examined Life
The Examined Life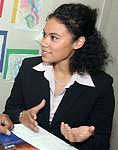 Dana Carr will try to tell you she wasn't the most interesting philosophy graduate that Saint Mary's unleashed on the world in 2005. She'd rather talk about her classmate Mary Beth Swygart, who went on to earn a master's in theological studies from Duke. Or valedictorian Dawn Eschenauer, who's getting a doctorate in philosophy at the University of Chicago. Or Angela Johnston '06, who is finishing her first year of law school.
"I am not really conventional for a 'philo' major," Dana says. But when you ask her what she learned from her studies, her answers are interesting. "Studying philosophy helps you develop critical thinking and writing skills, and the ability to read almost anything. If you can get through Kant, you can probably read anything you need for your work," she laughs.
"Philosophy basically teaches you how to learn," she adds. "Most graduates go on to do a variety of jobs, and they can train themselves to adapt."
Dana's best evidence for that argument is her own life. Last year, she joined the staff of the Center for Women's InterCultural Leadership (CWIL) at Saint Mary's, where she has several different roles. One is coordinating the Intercultural Learning Community Program, a multicultural learning environment for students living in Regina Hall. She also assists CWIL with international student services, study abroad, and outreach programs in the South Bend community.
Her training in philosophy was good preparation, Dana says, for "learning to ask the right questions in any situation and whenever you have a project, approaching it in the best way you can." When she begins a task, she always says, "Am I asking the right questions for what I want to accomplish?"
The demands of Dana's daily work haven't stopped her from thinking deep thoughts. She is halfway through a master's in ministry program at nearby Bethel College, and contemplating international mission work in the future. Her goal is "to have a better understanding of my faith," and to build on her own study abroad experiences in Ecuador and Honduras along with her job at CWIL.
In the end, Dana has much in common with the classmates she admires. "They're very thoughtful," she says, "and they're very purposeful in what they do."