Top Dog
Top Dog
When Marcie Livesay left Saint Mary's with a social work degree in 2001, she never imagined she'd be sharing her care-giving and listening skills with a whole new breed of client. In 2002 she founded Chicago Urban Tails, a pet services business on the city's north side.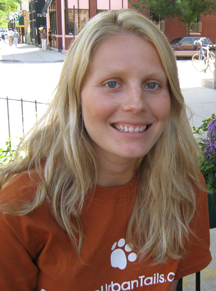 Given her education, it was an unexpected path. "When I started this business, I had $300 in my checking account," laughs Livesay. "My parents almost had a heart attack when they heard what I was doing." Like many Saint Mary's social work alumnae, Livesay pursued a master's in social work right after graduation, at Loyola University Chicago. She enjoyed working at a counseling center with disabled adults, but when she took a part-time job walking dogs in Lincoln Park, the call of the wild grew stronger.
"By the end of the summer I was walking half the dogs in my neighborhood," says Livesay, who took in strays as a young girl in Sawyer, Mich. "There was something about it that I just loved. I felt like I was outside playing every day and getting paid for it."
Soon after, she launched Chicago Urban Tails; 18 months later she bought a building in trendy Wicker Park to house herself and the business. Today the company has 30 employees who provide daily dog walks and in-home cat care to pet owners 365 days a year. In 2007, Chicago Urban Tails won a "Best of CitySearch" award, giving it a prime spot on an Internet list of businesses rated best in the city.
What's the secret to her success? "I would have never started my business if it wasn't for Saint Mary's," says Livesay, who believes the College's "empowering" environment gives women the confidence to take risks. She thinks her social work preparation helps her to keep both customers and staff happy. "I have the ability to listen and be empathetic with what's going on in their lives, and I have a lot of dedicated workers because of it. Social work also gives you patience. This is a demanding and detail-oriented business, and we notice and correct mistakes if something goes wrong."
What's next? Livesay has taken on a partner and will open a retail space and on-line store, Urban Dog Threads, next year. She also dreams of starting a doggie day care and grooming facility and possibly franchising the company someday.