You're smart, become brilliant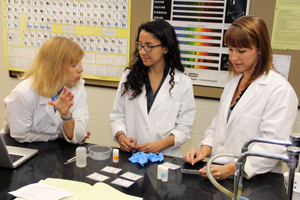 Dr. Toni Barstis, Diana Vega Pantoja '13, and
Elizabeth Bajema '11 discuss their paper analytical
devices.The battle against a multi-million dollar underground drug market may meet its tipping point in the form of a paper analytical device (PAD) the size of a business card. At least that is what Saint Mary's chemistry professor Toni Barstis, alumna Elizabeth Bajema '11, and current student Diana Vega Pantoja '13 recently presented at the 244th National Meeting and Exposition of the American Chemical Society (ACS) in Philadelphia.
The trio has developed and continues to improve an inexpensive paper-based tool that can screen for counterfeit pain relievers. It is a technology that could ferret out other fake drugs that promise cures for everything from malaria to the flu. Counterfeit pharmaceuticals are a serious problem in developing countries, and the inexpensive PAD provides results in less than five minutes to ensure that a drug promising to help battle the flu, for instance, is what it claims to be. Current testing methods for pharmaceuticals in labs in Kenya can take between 3-6 months.
The College has applied for a U.S. patent for the PAD and the patent is pending. It is the first time Saint Mary's has applied for a patent.
"Panadol (a brand name used abroad for acetaminophen) long has been among the most common, standard pain relieving drugs counterfeited around the world," said Barstis, who led the team. "In the past, you could just look at the labeling and packaging and know if it was counterfeit. Now, they do such a good job with the package design it's hard to determine whether it's a package of the genuine medicine or a fake that contains no acetaminophen or even ingredients that may be harmful."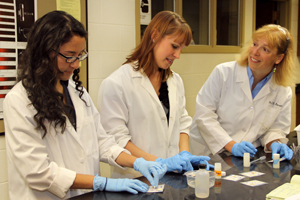 A demonstration of how the test is performed.Barstis' team, along with chemistry, biochemistry, computer science, and industrial design teams at the University of Notre Dame, is developing similar tests to identify counterfeit antibiotics, anti-malaria drugs, and Tamiflu, the influenza medication.
"We're tackling the issue from two sides," said Diana of the multifaceted testing PADs, which test for an array of ingredients. "We're checking the good things that should be in the medicine and we're proving from the other side of what shouldn't be in there."
Diana is a dual-degree engineering student working towards a degree in chemistry from Saint Mary's and a chemical engineering degree from the University of Notre Dame. She's glad to be part of the PADs project and calls Barstis a mentor.
"I can't imagine a more supportive, energetic, and demanding mentor than Doctor Barstis," Diana said. "She believes in us and pushes us to achieve our highest potential. She is passionate about getting women interested in science in general, not only chemistry."