'Blow Them Away with Your Womanhood'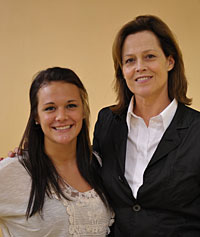 Caryn Garton '14, left, was one of seven
Saint Mary's College students who
attended a master acting class with
actress Sigourney Weaver on Monday.
As actress Sigourney Weaver walked into the Regina Hall theatre studio on the morning of September 26, 2011, the students, alumnae, and faculty in the room could feel the energy surrounding her. She was there to teach a master acting class, and seven selected students had been preparing multiple days for a chance to perform a monologue for Weaver and receive her feedback. They were doubly fortunate—Weaver was accompanied by her husband, Jim Simpson, acclaimed director and founder for the Flea Theater in New York City.
Weaver and Simpson carefully observed the morning performers—Elizabeth Carian '12, Eva Cavadini '12, Victoria Flees '12, and Kara Quillard '13—and gave each student advice on how to improve.
Weaver even got down and dirty, inviting the four students to lie on the floor with her for breathing exercises. "Just breathe. And as you breathe, try to allow the breath to come all the way down into your solar plexus because that's the powerhouse," Weaver said slowly in her signature strong, rich voice.
Looking ahead to future auditions, especially for ingénue parts, Weaver encouraged the students to stretch beyond the cultural expectation of shallow, high-pitched voices. Instead, "Blow them away with your womanhood," Weaver said. Simpson agreed that "Minnie Mouse voices" can kill auditions.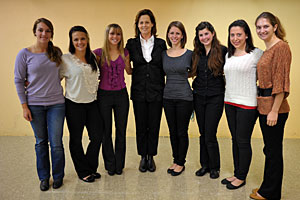 Seven students were chosen to perform for Weaver. They
are, from left, Eva Cavadini '12, Caryn Garton '14,
Kara Quillard '13, Victoria Flees '12, Elizabeth Carian '12,
Joy Viceroy '13, and Kathryn Hein '13.
Later, each student engaged in an exercise in which she placed a cup 15 feet away, closed her eyes, and tried to pick it up from memory. The goal was to teach students to follow their instincts no matter what. "If you let your instinct guide you, your instinct will get it. You just have to stay out of your own way," Weaver said.
Quillard was thrilled by the opportunity to receive Weaver's suggestions. "I had been practicing this piece all week," she said. "I was nervous to perform my monologue in front of her, but after the third time, I showed my confidence," she said. "Ms. Weaver really treated the students as equals and made me feel comfortable performing in front of her."
Along with Caryn Garton '14 and Joy Viceroy '13, Kathryn Hein '13 performed during the 2 p.m. session with Weaver and Simpson. "I got a whole sheet and a half of wonderful feedback from them," said Hein. "The best personal advice I got on my monologue was to find a kernel of my own experiences and discover a way to apply that to my performance."
In addition to the master classes and lunch with students, Weaver spoke that evening to a full house at O'Laughlin Auditorium as the Saint Mary's College Margaret Hill Endowed Visiting Artist.
In a conversational tone, she told the multigenerational audience stories of her life and her journey to success. She had the audience laughing, sympathizing and awed.
She took a moment to compliment the Saint Mary's students she'd worked with, noting their kindness and support of their peers. "Acting isn't a competition; you are a family with coworkers no matter what the experience," she said. "Character counts as much as talent."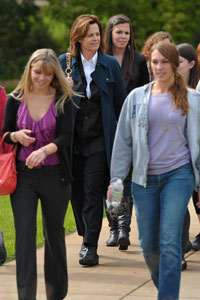 Weaver walks to lunch with students.
She spoke of her own mentors that led her to her highly esteemed career. One teacher in particular "saw something in me that I didn't know was there," she said. "I was always so sorry I didn't get a chance to thank Ms. Hunt, so thank your teachers now while you have the chance."
Several times in her address, Weaver, who earned a bachelor's degree in English from Stanford University and a master's from the Yale School of Drama, acknowledged the importance of education, especially when analyzing scripts for structure, character development, and other literary elements. "The part of acting that isn't luck is education. I've been fortunate enough to have an amazing education," said Weaver, adding that this has allowed her to be selective in her roles.
A solid education also makes an actor an asset on the set: "You're able to solve problems they don't expect actors to do. … In Alien, I read the script and didn't like it, and I opened my mouth." The director, Ridley Scott, respected Weaver's critique and ultimately offered her the role of Ripley. The 1979 movie put her on the map, and Weaver went on to land roles in films including Ghostbusters, Working Girl, Gorillas in the Mist, and Avatar.
Weaver spoke of Simpson's and her passion for the Flea Theater, which opened in 1996. "We love the off-off Broadway. We feel it's like a greenhouse where a new talent is nurtured like new plants."
In closing, Weaver waved and said, "I wouldn't exchange a second of my life for anything. I thank you so much and I love you."
—Anabel Castaneda '12 and Madeline Miles '13