Poetry was shared by four Saint Mary's students at Inauguration Dinner for President Katie Conboy on October 8, 2021. The student poets were Alok Agwick '23, Anna Keller '22, Lexi Kilcoin '23, and Katelyn Waldschmidt '24. Their poems are included below.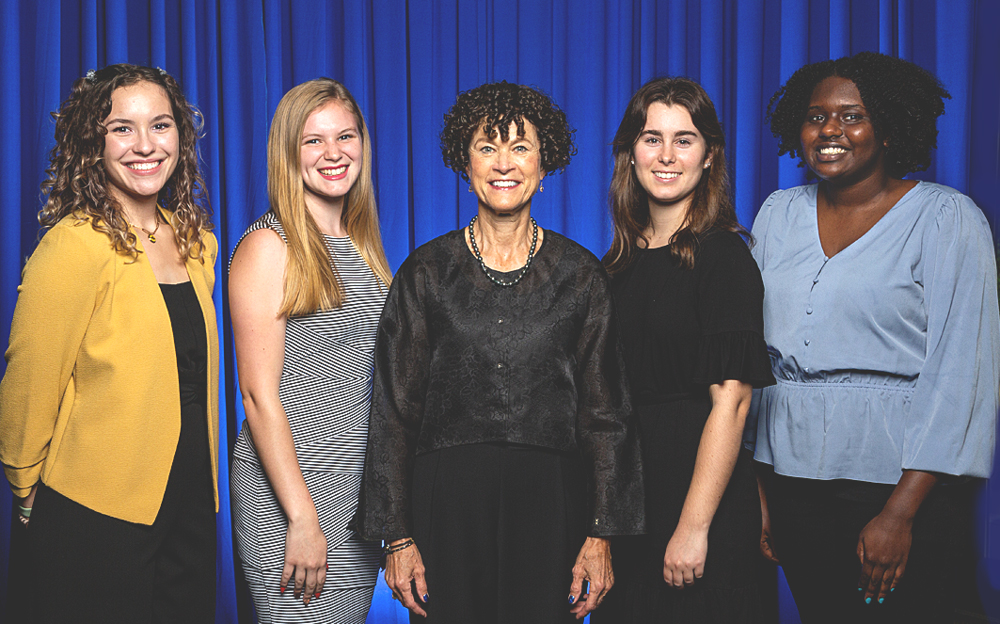 ---
Lexi Kilcoin '23
A Tribute to the Women by Whom we are Founded
I imagine what is was like in 1843, for four sisters of the Holy Cross,
To answer the call from Father Sorin, maybe even God, 4,027 miles away in Le Mans, France
To pioneer an education for women in a time where education was for men and men only
To stand on Native grounds that were not, and are not, their own,
In pursuit of something more
I imagine what it was like for Mother Angela,
In 1844, adorned by the spirit, running the academy in Michigan, by which we, Saint Mary's, were founded
to walk a strenuous six miles, heads held high 
to the University across the street to cook, clean, and serve the brothers with any and all of their needs,
with little in return but a job well done
I imagine what it was like in 1908, for Mother Pauline, the builder for God,
Our first leader,
To do the impossible: building our castle in the midst of one of the most devastating periods of our
country's history, on the brink of poverty
One can only begin to imagine what it was like,
For Sister Madeleva,
To walk down the Avenue, in her long habit, the fire of the Holy Spirit in her soul,
Ready to change the face of education forever.
To do the unimaginable
To admit women into a program designed only for men, that of Theology, the pursuit of truth in light of the Creator.
She pursued justice, education, and everything in between,
To pave the way for the thirteen leaders that have followed her, and the many to come.
To inspire young women to pursue justice, learning, community, and faith.
To promise the discovery of ourselves, the discovery of the universe, and in our place in it.
---
Katelyn Waldschmidt '24
Le Mans Laundry Languish
As I sit tucked into my favorite
Booth in the basement of Le Mans
Hall, reading an 18th century novel 
For class the next day, I wait
For my laundry to finish.
Over the music on my carefully
Crafted classical music playlist,
A dryer down the hall shrieks
And groans with every spin,
But it churns on, knowing that
No matter the circumstances,
Every Belle needs her laundry washed.
The athlete who scored the game winning
Point for another Belles victory needs
Her favorite shorts for 
Tomorrow's 6 am practice.
The artist whose work is displayed
In Moreau for all to admire would like
Her favorite paint stained shirt
Before she starts on her next masterpiece.
The actress who may not have gotten
The lead role in the last show but
Has a good feeling about this year's
Now needs her lucky socks 
Before the next audition 
The musician who sits in her room to 
Practice, despite her friends 
Instances that she goes out
Wants her snuggliest sweatpants
For this night's jam session
The nursing student, tired
From a long day of clinicals
Needs her scrubs for another day 
Of preparing to be a future life saver 
Despite the differences of every student
That together make up the 
Mosaic masterpiece that 
Is Saint Mary's College,
We are Belles and we all
Need our laundry washed. 
---
Alok Agwick '23
A Found Poem
From the works of Sr. Madeleva Wolff, CSC
I seek a teacher and rule, 
Gallant and bright
I do not think a stranger going down
Could find the way.
Last night through all of my dreaming,
You sang to me, dear 
Hearts stirred to fear and doubt
I have waited long and long
Clay has no heel Achillean, vulnerable.
Be animate till some deliberate time
You Who are both its beginning and its end
---
Anna Keller '22
As the Sun Sets, Remember
Hues of orange and pink flash across the sky, like a paintbrush to a canvas. Their rarity makes them all the more beautiful. Sometimes an amber glow fills my room, a soft evening light that ripples across my walls and flickers off my door. It's when this happens I know: the day has begun to dwindle.
But unlike the day, campus rouses to life at dusk; people scurry off to the library to claim the big tables in Trumper everybody likes. Printers are backed up. The writing center is open for business. Laughter echoes off the sidewalks, and if you listen closely you can hear the rumbling of skateboards and the buzzing of bicycles, two spinning cogs in the soundtrack of college life.
People talk about how they can't wait for school to be over, but I don't want it to end. I'll miss the lines snaked across campus for events and free tee shirts. I've never seen a group of people rally so much over free tee shirts. I'll miss my professors, and my writing workshops. Other people complain about their classes, but I can't get enough.
Saint Mary's offers a place of growth, of faith, a nest from which to spread your wings, but most importantly, friendship. Saint Mary's has gifted me with life-changing experiences and lessons. At first it felt like breaking in a new pair of shoes, but over time it has morphed into something soft, malleable, something that cradles my foot with the utmost care.