Faculty Profiles
Making History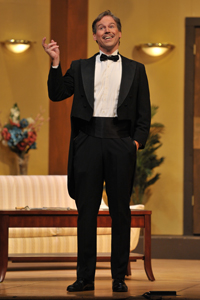 History professor Bill Svelmoe was going to be a doctor, except there was one small hitch. "I pass out at the sight of blood," says Svelmoe. "It took one week of college chemistry to convince me that I was not a doctor. Basically it was very idealistic. I wanted to help people."
The son of missionary parents, Svelmoe was born in Ohio but raised in the Philippines, where he lived through high school. Growing up "in the jungle" without television led to a passion for literature, and Svelmoe majored in English at the University of California at Irvine. He attended seminary (MDiv, Talbot Theological Seminary), studied theology and fell in love with history. He received his MA and PhD from the University of Notre Dame in American History with a concentration in American Religious History, and Latin American History. At the time he was finishing his graduate work, Saint Mary's advertised for an American History professor who could also teach Latin American history. The rest, as they say, is history.
Svelmoe's goal as a history professor is to have his students "go away wanting to read more history—wanting to continue picking up history books in the bookstore." He doesn't teach from conventional history textbooks, but rather assigns books he hopes will get students excited about reading history.
"There are a lot of very well written books of history out there. You just have to diligently search for them," explains Svelmoe. "Every time I read a new book, one of my first thoughts is will this be a good book for a class? Is this a book that will turn students on to history? I try to make note of those books and use them in class."
In addition to encouraging students to read, Svelmoe encourages successful students to become good writers. "If you learn nothing else in college, learn how to write, and write well, and you will stand out in whatever discipline you go into when you leave here," says Svelmoe. "You will be noticed if you write well, and you will be noticed if you don't write well. Learning how to write and to make clear, creative, well-crafted arguments—that's why the W (Advanced Writing Proficiency) program here is so important."
Svelmoe has been at Saint Mary's since 2000 and says, "One of the great things about a liberal arts college of the size of Saint Mary's is that you can get involved in things outside of the history department." Svelmoe is the faculty athletic representative to the NCAA, and the faculty advisor to the volleyball team. He's the author of a recently published book, New Vision for Missions: William Cameron Townsend, the Wycliffe Bible Translators, and the Culture of Early Evangelical Faith Missions, 1896-1945 (University of Alabama Press, 2008). He's also cultivating a newfound interest in acting.
"That was a totally out of left field unexpected pleasure," says Svelmoe of his first acting experience in a non-speaking role in a Saint Mary's production. "I had no idea I would ever be doing anything like that." He has since appeared in a number of Saint Mary's and South Bend Civic theatre productions, his most recent role as Henry Saunders in Saint Mary's production of Lend Me a Tenor.
Svelmoe describes himself as an "older dog" (rather than an old dog) who's learned a new trick. "Acting at this stage in my life, I can risk making a fool of myself and it doesn't terrify me the way it would have at a younger age," says Svelmoe. "You learn not to worry so much about what people think of you and just get into the spirit of the character and the production and go for it. That's a great life lesson. You've just got to go for things."
Postcard from Poland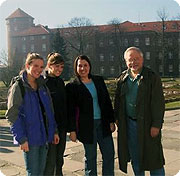 Not many can call Poland's Minister of Defense, Boguslaw Winid, a personal friend. History professor David Stefancic can. Stefancic is one of the most knowledgeable and dedicated historians of the Polish military in the United States today.
Stefancic began teaching at Saint Mary's in 1991. He received his BA from the University of Wisconsin-Stevens Point, MA from Marquette University, and PhD from the University of Wisconsin-Milwaukee. His publications include Robotnik, a history of the Polish labor movement, and Armies in Exile: The Polish Struggle for Nation and Nationalism.
Stefancic is currently director of the Saint Mary's European Summer Study Program, which has been in existence for over 32 years. In 1998, he created the Poland to Prague program, a bi-annual spring break experience that introduces students to the history and culture of Central Europe. "Since my area of specialization is Polish history, I thought it would be nice to show off all the places I know and love," says Stefancic, who first visited Europe in 1974 as a student and has returned 14 times since. "In Krakow, I always take students to the oldest pub in the world dating back to 1364."
Stefancic says that to study in Europe on either program is to be surrounded with history. "You are walking in the same steps as Napoleon and Louis XIV. You are sitting in the same seats as the students of Copernicus in Krakow. Some may argue with me, but I think history is the basis for all other disciplines."
— written by Amanda Goetz '08