History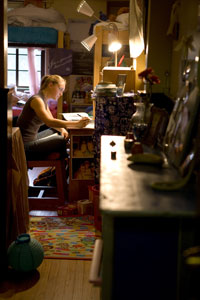 An undergraduate degree in history is a path to a wide array of career opportunities. Studying the past will allow you to understand the issues facing society today in a new way. Expert faculty members place emphasis on research and writing skills, and the ability to think logically and innovatively about materials covered. These skills will continue to serve you well whether you pursue graduate studies or go directly into the business world.
You have the opportunity to study important events, people, societies, and cultures from all periods of time and geographical regions. You also may adopt a concentration in American, European, Global South (Africa/Asia/Latin America/Middle East), or Women's history if you choose.
"Saint Mary's has prepared me for whatever job comes my way. As a history major, I was able to pursue and study what really interested me—music history—and had all the encouragement from faculty. I still keep in touch with some professors to this day." —Danielle Taylor '06
Writing in the Major
Before taking the Senior Seminar, you will submit a portfolio of representative papers written in your history courses for evaluation. You will be awarded the Advanced Writing Proficiency upon successfully completing the senior research paper in the Senior Seminar.
Senior Comprehensive Examination
The Senior Comprehensive consists of two parts:
The Senior Seminar with the completion of a satisfactory research paper, which will fulfill the advanced writing requirement.
An oral presentation based on your senior comprehensive research. The comprehensive research presentation will take place before the History Department during the second semester of the academic year.
Careers
Previous graduates in history are engaged in a wide spectrum of activities in the business, professional, and academic worlds. Careers range from finance to journalism, from teaching to politics, from librarians to museum curators, from editing to law.