Alumnae Profiles
IT Girl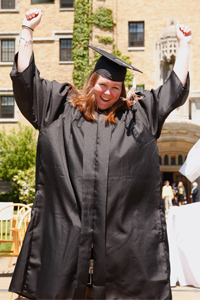 If it hadn't been for Saint Mary's, alumna Michelle McManus '08 may have never found her calling—the management information systems (MIS) major. "In another school, I would have just taken the required courses and possibly not have taken any computer sciences," says McManus. Math and computer science professor Mary Connolly had a big impact on what she decided to do, says McManus. "She pushed me to do things that I did not know that I could do."
Math professor Ewa Misiolek also influenced her, teaching her "the importance of being able to learn independently and to push myself when I come across something that is puzzling, no matter how much I want to give up." The pushing paid off, and McManus landed a number of interviews in IT (information technology), and is now working as an analyst/programmer with Boeing in St. Louis, Mo. She is part of an Information Systems Career Foundation Program (ISCFP), a high visibility program, training participants more rigorously for management positions.
While at Saint Mary's McManus says she loved all of her computer classes. "The professors are amazing people and the class dynamic is unique," she says of the small class size and close working relationships between the students.
McManus chose information technology as a field because she didn't want a job that would become mundane and boring. "I want something that will allow me to continue to learn new things and apply them on a daily basis. It is impossible to know everything there is to know about computer science or information technology, so I know I will never be bored."
McManus says she would like to see more people in IT, especially women. "It is a highly male-dominated field, and this can be intimidating. The material you have to learn and understand is intimidating as well, but it is not impossible to learn." Embracing her desire, McManus started a Blackboard site at Saint Mary's to give advice to underclassmen about computer science and the MIS major. "I would love to see more Saint Mary's College students working toward a career in computer science."
Carpe Diem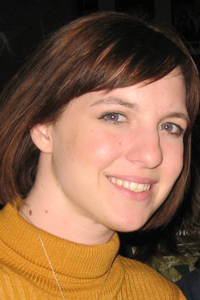 Not only did graduate Kelly Gasior '09 take advantage of all that Saint Mary's has to offer—she worked to offer others something more—a healthy lifestyle. The native of Pittsburgh, Pa., was a member of Weight Watchers® the previous summer of her senior year. When she returned to Saint Mary's, she found she wanted to keep up her healthy lifestyle. "I contacted Cathe DeCleene and we were able to get an on-campus group started," recounts Kelly. "I really enjoyed helping other Saint Mary's community members get on track with eating healthy and being active."
The management information systems (MIS) major was involved in a number of other activities on campus and at the University of Notre Dame. She and a group of friends started a Daughters of Isabella chapter at Saint Mary's, where she was the scribe for the first two years for the all-women's Catholic service group. Kelly was a member of the Notre Dame/Saint Mary's Swing Club, where she learned to swing dance. "I've made wonderful friends and have picked up some great moves," says Kelly. She was also a manager for the Notre Dame Marching Band for three years.
In her academic life, Kelly lists "three wonderful women" who helped her with her studies. "Professor Mary Connolly and Professor Ewa Misiolek guided me through my management information systems major with a perfect balance of instruction and push for independent learning outside the classroom. Professor Joyce Hicks has also made an unforgettable impact on me. As a supportive, warm, and challenging professor, she asked the questions that turned us from students into marketers," says Kelly of the caring professors Saint Mary's is known for. "Each one of these women has also helped shape me as a confident, strong woman who can articulate and defend her positions, ideas, and beliefs."
While Kelly found plenty of extracurricular activities to participate in, she also enjoyed the small-class sizes, beautiful campus, and the relationships she built at Saint Mary's. "The friends and professors I've encountered here have made my time at Saint Mary's memorable and I know I'll be staying in touch with many of them long after graduation," says Kelly. "The small-class environment and dorm life cater to this and I wouldn't trade it for the world."