Student Profiles
Dynamic Dual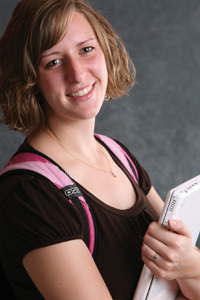 You can say that engineering is in Mary Zahm's blood, with a family history going back nearly a century. The Ypsilanti, Michigan native's great-great uncles John and Albert Zahm were very involved in science as University of Notre Dame professors. Albert was the first professor of mechanical engineering at Notre Dame, and as it turns out, Mary is majoring in mechanical engineering and mathematics as part of the Dual Degree in Engineering Program at Saint Mary's. When she graduates from Saint Mary's, she'll continue her education across the street, getting an engineering degree from Notre Dame. "I think the program is a tremendous way to get girls involved in science and engineering, both fields that have been predominantly male," says Mary.
Mary was initially a little skeptical about attending an all-women's college, but then she found out about the dual degree program and was hooked. "I started to really enjoy math in high school, and I figured it would fit very nicely with the engineering degree."
Mary credits her engineering advisor, Professor Toni Barstis with being encouraging. "I would be so lost without her help," says Mary. "Plus, she is outstandingly supportive of all of us engineering women. She is so proud of us, and she is definitely not afraid to let others know that." Math classes are also a favorite for Mary, who lists Colleen Hoover and Joanne Snow as two of her favorite professors.
In addition to pursuing two degrees, Mary is also active on campus as the co-president of Saint Mary's Society of Women Engineers Collegiate Interest Group. She is the student coordinator for Four:7 Catholic Fellowship, a student-led campus ministry group at Notre Dame, and she has also been a student manager for the Notre Dame athletics department for the past two years.
Beyond academics and extracurricular activities, Mary finds that her spiritual nature is nurtured as well at Saint Mary's. "Saint Mary's has provided an academic challenge, while providing a place where I can find friends and a good support system to help get me through the tougher times," says Mary. "Also, since Saint Mary's is a Catholic College, I have wonderful opportunities to grow and strengthen my faith, especially through the Sacraments of Eucharist and Confession, and also Adoration."