Psychology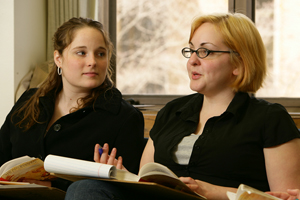 Students are introduced to the major perspectives that predominate in psychology today, including biological, learning, cognitive, developmental, sociocultural, and psychodynamic perspective. Whether or not you wish to become a psychologist, a major in psychology, paired with an excellent liberal arts program, can lead to a variety of careers.
"As a student at Saint Mary's, I learned to be a strong, ambitious woman who can make a difference in the world. This drive and ambition has carried me through my first two years of graduate school and will carry me through my remaining three years. With a degree in psychology I know that I will make a difference by touching the lives of children and their families. I will always have Saint Mary's to thank for guiding me down the road to great things." —Megan Ubinger '06
Writing in the Major
The advanced writing proficiency requirement in psychology is designed to ensure that you develop a high level of skill in writing subjects pertaining to your psychology major. You will demonstrate mastery of several styles and skills including the following: the analysis and synthesis of research literature using scientific (i.e., APA style) writing; case study descriptions of child and adult development; report of a scientific research project and structured lab observations; personal reflections on the intersection of theory, research, and person experiences; reasoned position papers using empirical evidence to support the student's argument. Students complete a designated set of papers to demonstrate competence in various writing skills and proficiency in specific styles of psychological writing.
Senior Comprehensive Examination
Psychology majors may complete one of two types of Senior Comprehensive projects in psychology: an extensive review of the literature on a psychological topic, or an empirical research study that the student proposes and conducts independently. Students present their senior comprehensive projects to the psychology faculty and their peers. Satisfactory completion of the PSYC 495 class their projects, and presentations, satisfies the senior comprehensive requirement.
Hands-on Learning
As a psychology major, you have the opportunity to work with faculty on their research, conduct your own independent research projects, and complete supervised field experiences and internships at renowned universities such as Yale and Tulane. The psychology department's nationally recognized chapter of Psi Chi, the National Honor Society in Psychology, invites students to present their research at regional psychology conventions, giving you invaluable experience and a chance to network.
Careers
If you aspire to become a psychologist or are interested in research, your experience at Saint Mary's will prepare you to further your education and earn a master's degree or PhD. An undergraduate degree with a major in psychology from Saint Mary's could also lead you to careers in personnel, human resources, and organizational communication, or other departments of business. In a social situation, especially in the workplace, your ability to understand people on a psychological level is critical. Your specific area of interest will ultimately determine what you do with your degree, and the faculty at Saint Mary's College is here to help make that happen.