Alumnae Profiles
A Change of Heart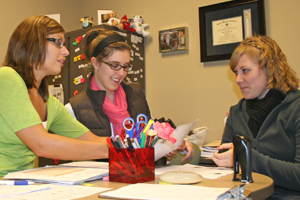 Olivia Barzydlo Critchlow meets with
Maggie LeMay '12 and Alicia Wilkins '11
A change of heart after graduation helped alumna Olivia Barzydlo Critchlow to find her heart—in community service. The '05 graduate and psychology major originally planned to go to law school, but second-guessing led her to take a position as an AmeriCorps intern in the Office for Civic and Social Engagement (OCSE). "I decided that instead of going forth with law school, I should take a bit of time to figure out what I was really drawn to and what I enjoyed doing," explains Critchlow. "It was during that year of service with AmeriCorps that I found my calling—to be working with those in need in the South Bend community." Today Critchlow is the assistant director for the Office for Civic and Social Engagement (OCSE), and the director of the College Academy of Tutoring (CAT) program.
Critchlow is responsible for assisting with all OCSE events and programs, as well as coordinating and overseeing everything related to the CAT program. As the director of the CAT program, Critchlow recruits and trains Saint Mary's student volunteers, manages volunteer placements, and facilitates the partnerships between Saint Mary's and three South bend Title 1 schools, as well as the downtown branch of the St. Joseph County Public Library. "I truly believe that I have the best group of ladies on campus—although I'm sure there are many people here who would say the very same about the students they have," says Critchlow. "The ladies I work with are incredibly dedicated to their work, are extremely passionate, and truly the leaders of tomorrow."
Critchlow herself started out as a leader of tomorrow when she was in the seventh grade, attending Hypatia Day, an event sponsored by Saint Mary's. She visited the campus again on Fall Day during her senior year, and says that she felt as 'at home' at Saint Mary's as she did at her high school. "I wanted a place that would provide opportunities similar to a large school but with the compassion and care of a smaller school," says Critchlow.
While a student at Saint Mary's, Critchlow participated on the Student Judicial Board, the Psychology Club, and the College Democrats. It was OSCE Director Carrie Call who gave her the AmeriCorps opportunity, and Carrie Call the psychology professor who influenced her to become a psychology major. "As a psychology major it was both Carrie and Professor Catherine Pittman who inspired and challenged me to think outside of the norm, and truly become the person that I am today."
That person is encouraging and inspiring other young women to be the leaders of tomorrow. "I feel so blessed to have the opportunity to work with them during one of the most influential times in their lives, and know that some of the work I do with them may further shape who they become tomorrow," says Critchlow.
Putting Her Mind To It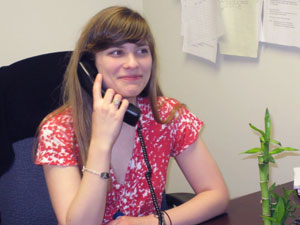 Ali Zakrzewski '08 at the office
You might call alumna Alexandria (Ali) Zakrzewski '08 a real brainiac. She is passionate about understanding the structure and function of the human brain. That passion has launched her on a career path that will allow her to make meaningful contributions to the field of psychology through scientific research.
After graduating from Saint Mary's, Zakrzewski decided to go into psychology research to prepare herself for graduate school studies in cognitive psychology. She will be attending University at Buffalo, part of the State University of New York (SUNY) system, in the fall to begin her doctorate work.
Now, Zakrzewski works as a research assistant at Moss Rehabilitation Research Institute with the Albert Einstein Healthcare Network in Philadelphia, Pa. She works on two longitudinal studies that look at functional outcomes in patients with traumatic brain injury.
For both projects, Zakrzewski conducts interviews and neuropsychological testing with patients while they are in the hospital and annual follow-up interviews one year after their discharge. She has also helped to construct a shared database that allows the Moss research staff to share results with collaborators in Denmark. Not bad for an alumna just two years out of college.
How did Zakrzewski learn the ins and outs of psychological research? Her coursework at Saint Mary's had something to do with it. "I learned through coursework that required hands-on experience," says Zakrzewski, who double-majored in psychology and philosophy. Instead of just reading about how to conduct a study, she was able to carry them out in courses like Research Methods with Professor Karen Chambers, independent research she conducted under the direction of Professor Catherine Pittman, and her senior seminar with Professor Becky Stoddart.
Zakrzewski was also awarded a Student Independent Study and Research (SISTAR) Grant along with her research partner, psychology professor Tom Parisi. It was Parisi who inspired Zakrzewski's love of neuropsychology. "He helped me better understand and define what it was that I wanted to know about the field of psychology and its relationship with neuroscience and philosophy of the mind," says Zakrzewski.
Her experiences in the lab taught Zakrzewski the skills she needed to approach her research with confidence. Data collection, data entry, and data analysis are no small task when it comes to brain research. Zakrzewski's work is making a difference in the field of cognitive psychology, contributing to scientists' constantly evolving understanding of the brain.
The Psychology of Success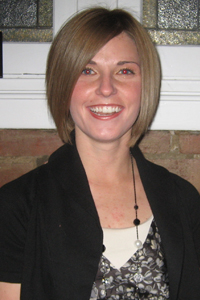 When Megan Ubinger '06 was considering careers in high school, elementary school teacher was at the top of her list. And then she discovered psychology. The Pittsburgh, Pa. native majored in psychology and is currently a psychological trainee in the doctoral program in clinical psychology at Saint Louis University. Ubinger is responsible for providing comprehensive outpatient psychological services to individuals including children, adolescents, and adults, in a university based training clinic that serves the metropolitan St. Louis area. Additionally, Ubinger spends 20 hours a week in two different community placements; she works in an inner-city school that serves children in grades K- 8, and she is a research coordinator in the Department of Pediatric Psychology at St. Louis Children's Hospital.
Saint Mary's gave Ubinger a good foundation for her career. "The psychology department fostered my love for psychology and it provided me with the specific tools needed to pursue graduate work in psychology," says Ubinger. During her junior and senior years she was part of a research team, and she was a teaching assistant for Dr. Rebecca Stoddart, who she says also taught her favorite class, developmental psychology. "My favorite part of that course was the practicum portion," says Ubinger.
Ubinger also worked at the Early Childhood Development Center (ECDC) on campus a few hours each week, assisting the teachers. "Every week I looked forward to working at ECDC because the children were teaching me just as much as I was learning in the classroom."
In a practicum experience at a local elementary school, Ubinger worked weekly with 4th grade girls on body image, self-esteem, interpersonal relationships, and empathy. "In addition, I, along with another student developed and started a pen pal program with the 4th grade girls and Saint Mary's women," says Ubinger of the nationally recognized program that is still in place.
Ubinger also studied abroad in Rome. "Going to Rome was my time to expand my horizon," describes Ubinger. "I was breaking away from more narrow perspectives of life and becoming aware that I could take on a new perspective of life which would make me become a more intellectual woman."
It comes as no surprise that Ubinger garnered a number of accolades at Saint Mary's, including the psychology department's Outstanding Achievement Award, and the Midwestern Psychological Association Psi Chi Research Award, Department of Psychology. She was a resident assistant, a teaching assistant, a VISA volunteer (Volunteer in Support of Admission, leading campus tours and hosting prospective students overnight) a member of the psychology club, and a member of Psi Chi, National Honor Society in Psychology.
Ubinger came to Saint Mary's at the suggestion of her father, a Notre Dame graduate. "Saint Mary's was one of the first schools I was accepted to, and in fact I received my acceptance letter on Christmas Eve. Little did I know that would be the best Christmas present I could receive," says Ubinger.
Like many Saint Mary's women, she made the most of her experience during her time here. "As a student at Saint Mary's I learned to be a strong, ambitious woman who could make a difference in the world. This drive and ambition led me to pursue the helping profession of psychology," says Ubinger. "With a degree in psychology I know that I will make a difference by touching the lives of children and their families, who are in need and underserved. I will always have Saint Mary's to thank for placing me on the path to great things."