Student Profiles
Building Hope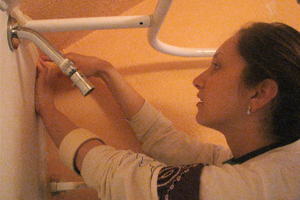 Many hands make light the work. ~ John Heywood
As a first-year student, Jennifer Kornexl lent her hands to Rebuilding Together. The psychology major worked with other students and volunteers on one of two sponsored South Bend homes as part of the national program that aims to rehabilitate selected houses of elderly, disabled or low-income owners. The homes were sponsored by the Office of Civic and Social Engagements (OCSE), where Jennifer is a volunteer.
Jennifer was responsible for putting together all of the supplies needed the week before Rebuilding Together. While on site she worked for four hours cleaning and painting inside the house—working to get the rooms upstairs in better condition, something the volunteers were able to do. The best part of the experience was, "knowing that my efforts would make a positive impact on someone's housing situation," says Jennifer.
Jennifer also volunteers at a public library and at Warren Primary Center in South Bend as a tutor and teacher's assistant. She works works with the College Academy of Tutoring (CAT) program, and credits Olivia Barzydlo, program director, as someone who has been very helpful throughout her college career. "Whether it's an issue about school or work, she is always willing to listen," Jennifer says.
Jennifer says she chose Saint Mary's because she couldn't pass up all the opportunities it has to offer. "Some of the programs I've been involved with work directly with the South Bend community, which is something I really enjoy. It's good to get outside of the college atmosphere every once and a while and focus on the community, rather than yourself and your studies."
Leading and Learning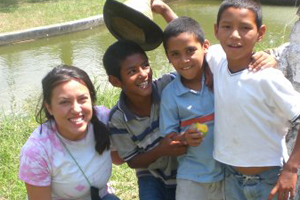 Carissa Salvador in Honduras
Senior Carissa Salvador was considering attending another college until she received a phone call from a Saint Mary's student asking her to apply to the College. She applied, and after receiving her acceptance letter she came to visit the campus. "Once I stepped on campus I fell in love with the green grass and the beautiful buildings. The people on campus all seemed so friendly. By the end of my overnight stay I decided that Saint Mary's was the place for me." The native of Las Cruces, N.Mex., is majoring in psychology with minors in intercultural studies and sociology.
Carissa has been involved with the Student Diversity Board (SDB) since her first year and she is the president of the club this year. She is also in the process of completing the Center for Women and Intercultural Leadership (CWIL) Intercultural Leadership certificate program. Her favorite class was Introduction to Intercultural studies, taught by Mana Derakhshani. Carissa found the class work challenging, but says she learned so much about herself and others. "The discussions in that class were often on touchy subjects, but we all opened up and were respectful of one another.
Even though she is busy on campus, Carissa still has time to give to others, volunteering at Catholic Charities where she helps teach the Immigration/Naturalization class. "This class prepares immigrants that are interested in becoming U.S. citizens, with an understanding of U.S. history and our government," explains Carissa.
Carissa has also participated in the Rome Study Abroad program and in a service trip to Honduras. The two trips, just a few weeks apart were very different experiences. "In Rome we were spoiled living in a luxurious hotel and having great, big meals every day. But in Honduras we slept on bunk beds and once in hammocks in a village. The food that we were fed, we were so grateful for, because we knew that many Hondurans would not be eating that day or meal." While Carissa enjoyed the cultural learning during her time in Rome, she also found her experience in Honduras rewarding. "Being in Honduras allowed me to become very interested in working with children, especially in Latin American countries."
Initially looking to teach, Carissa is applying to teaching programs such as Teach for America and City Year. After that she is considering working with children in developmental psychology, or maybe working in law enforcement on a federal level. Regardless of where her path leads, she'll be ready.
"Saint Mary's has provided me with a great education and has allowed me to discover what it is I stand for and has encouraged and allowed me to speak up for what I think is right or wrong," says Carissa. A recipient of scholarships through the College, Carissa hopes to return the favor someday. "I hope that in my future I will be able to give back to Saint Mary's so that I too can help a student who needs the assistance to not only get through college, but also get a great education."
Marching On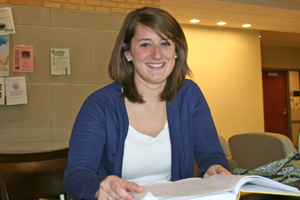 After searching all over the Midwest and the East coast for a college, senior Tracey Chuckas found the right fit for her close to home. A native of Saint Joseph, Mich., Tracey remembers how she was drawn to Saint Mary's by the homey feeling of the campus. "Of all the colleges I toured and visited none felt like a second home and none even compared to the experience I had on my visit to Saint Mary's," Tracey says.
The psychology major and communicative disorders minor, notes that there have been many faculty members who have supported her along her journey. "Professor Catherine Pittman, in all of my psychology classes, has supplied me with much knowledge. Professor Susan Latham has always been there to give me advice and help me throughout my many career idea changes. She was the very first professor to show interest and really care about my success. Professor John Fotopoulos has increased my knowledge tenfold about Greco Roman history and the history of the Bible, making me a more educated Christian. His classes were always so engaging and never left us uninterested," says Tracey.
When she is not hard at work studying for her classes, Tracey spends her time playing the clarinet in the University of Notre Dame Marching Band. "I can't imagine my college career without being a member of the band," Tracey says. "The friends I have met, the places I have traveled to and the amazing memories I have made are something that I'll never forget."
When first becoming a member of the band, Tracey was the only first-year student from Saint Mary's in the clarinet section. Fellow clarinet and then Saint Mary's senior, Chelsea Chalk took Tracey under her wing and became her senior mentor. This year Tracey has come full circle and, as a senior, is mentoring first-year student Katie Kyler, who coincidentally is the only Saint Mary's first-year student in the clarinet section.
Every band member has a moment when they get pumped up for performing at the football game, Tracey says. Hers is looking up before they march into the tunnel to see the fans on the top of the stadium looking down at them.
"I get chills every time because those people are there to see us," Tracey explains. "The teams have gone into the stadium and are already practicing but the fans are there to see us. It is surreal."
With graduation looming in the spring Tracey is thinking ahead and looking into career paths. She is currently looking into either doing service work with AmeriCorps, or finding a job with the government in Washington DC.
"I have a lot of different options, which makes the process complicated," Tracey admits. "Whatever I find myself doing it will involve helping and aiding those who need assistance. My view of my career is to leave my impact and help people."
With a world of possibilities awaiting her, Tracey is confident that her Saint Mary's education will help her with whatever life throws her way. "The smartest thing I have done is to attend a liberal arts college. The diverse background I have has made many of my future career plans a possibility," Tracey says.
—Nikki Taylor '11