image upload training session
Session information:
As part of finalizing the new image uploading process, the web team is offering several training sessions to all editors on the website. The topic of training is 'how to upload images to the content area'.
We have set up three sessions to begin with:
July 18 at 2pm
July 26 at 10am
August 3 at 3:30pm
Each session takes about 60 minutes. The location will be at room b11 in the library for all three sessions. We also plan to make more sessions available after semester starts. 
What we will discuss:
images in the content area
image size requirements and preparation before upload
how to upload images
how to make images accessible and ADA/WCAG compliant
how to change their width and alignment
how to add image captions
how to find a possible previously uploaded image
What we will NOT discuss
anything on college's portal
any of college's subsites or sub domain websites (trustees, library, tickets, cwil, jwil, wei, grad...)
student/faculty profile images
header images
image gallery creation
other images outside of the content area
other website settings/configurations which are not image related
Registration information:
To register please use this shared Google sheet https://docs.google.com/a/saintmarys.edu/spreadsheets/d/1tYNln4NUOYex1Ec...
There is a cap of 10 people for each training session. Registration closes on each training day at 8:30am or when cap is reached.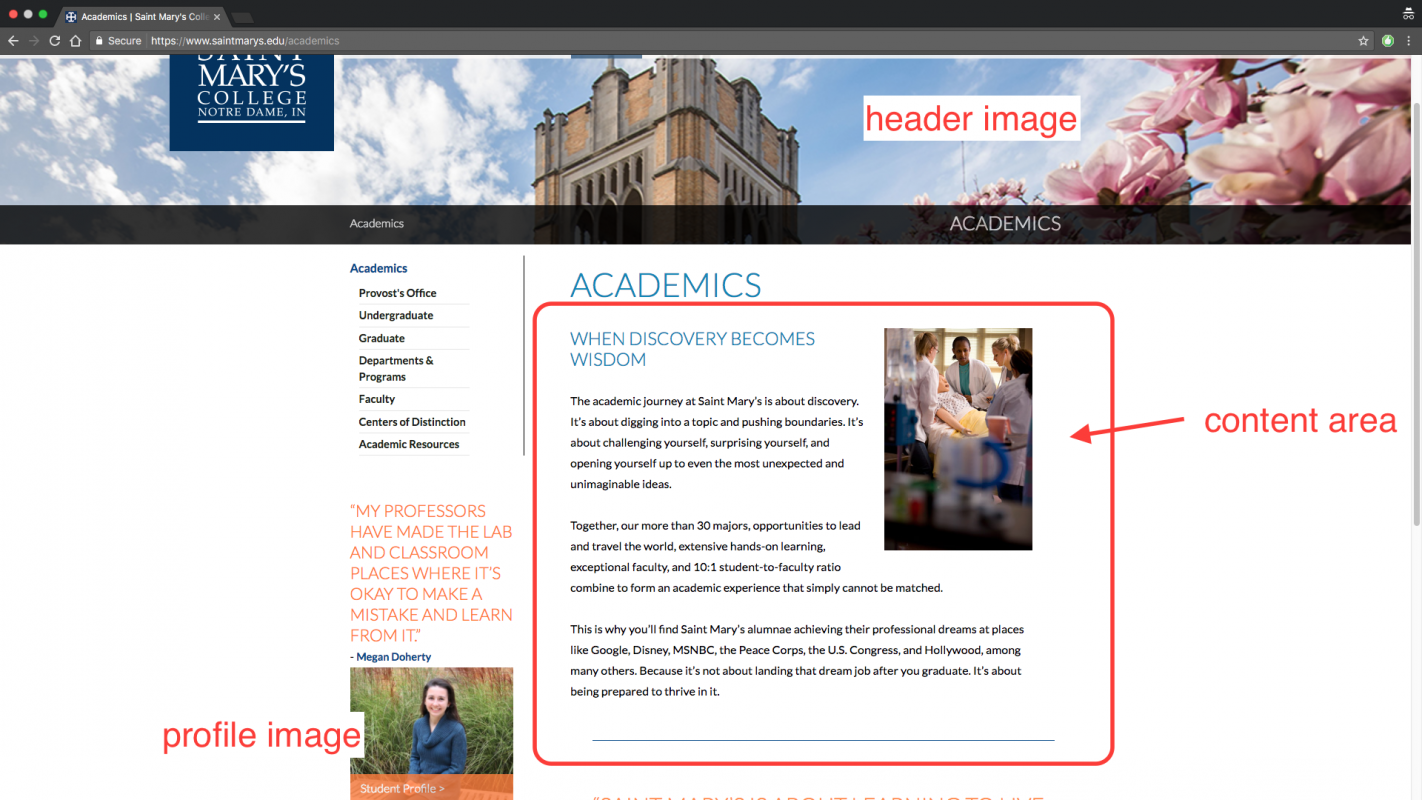 ---
demo text
In 1991 a Saint Mary's student by the name of Sharon Zint conceived the idea of an office of volunteer service after hearing a speech by Sister Joan Chittister. Sister Joan was the commencement speaker at the 1991 graduation and spoke of the power of hope to bring change into people's lives. Her focus on the nature and power of hope came from Saint Mary's Motto, Spes Unica, the only hope. Zint took her inspiration to heart and beginning in the fall of her senior year, drafted a proposal for the creation of the Spes Unica Resource and Volunteer Center. As a result, S.U.R.V. was born. The SURV Center functioned primarily as a clearing house for information on needs in the wider South Bend community and how students could become involved.
The Center was staffed completely by students. As time passed the program grew, finally bringing in a full time Director in 1997. Sister Linda Kors, CSC, helped SURV to expand its reach, taking students on work trips to Appalachia every fall and partnering with the Center for Spirituality on pilgrimages to Brazil, El Salvador, and Mexico. Resources available at the SURV Center continued to grow, from service-learning texts available to faculty, to brochures explaining post-graduation service such as the Peace Corps.
In the summer of 2004 a name change was proposed for the Center, one that would encompass new directions and the changes on the horizon. Thus the Office for Civic and Social Engagement was created. The OCSE has remained true to Zint's simple belief that as a Catholic college, "We have an obligation to do community service for others."