Marketing Communications at Saint Mary's College
The role of the Integrated Marketing Communications Department is to deliver a clear, consistent, and compelling message about Saint Mary's College and its academic excellence to our external audiences.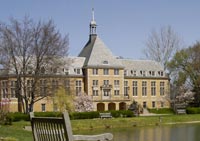 While the mission remains the same "... help Saint Mary's build relationships with internal and external audiences by communicating the mission, building the identity and enhancing the image of reputation of Saint Mary's ..." some of the ways we approach and fulfill that mission have been improved. While the focus is on external audiences, MarCom provides education, tools, and resources to enable College partners to support the brand promise in all College Communications. We invite you to further explore our services and support; here are a few highlights:
MarCom is charged with the responsibility of upholding the College's image in marketing and communication initiatives; we do this in partnership with the College community. We work to accomplish this goal by providing a variety of integrated communications services through our Media Relations office, our Publications staff, Web Services, and the Courier. Leading the Brand Identity Initiative, it is MarCom's responsibility to assure all College Communications are in sync with the College's new standards.
If you have a project, please contact a MarCom staff member to assist you.
| | |
| --- | --- |
| Phone: (574) 284-4595 | Fax: (574) 284-4848 | Office Hours: Monday - Friday 8:00 am - 5:00 pm |