Sister Patricia Hogan, CSC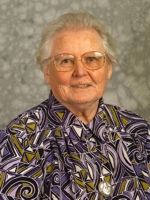 (October 25, 1923 - April 21, 2013)

Word has been received of the death of Sister Patricia Hogan, who died at 7:55 p.m. on Sunday, April 21, 2013, in Saint Mary's Convent, Notre Dame, Indiana.

In every respect Sister Pat was an enthusiast. Whether she was extolling the joy of family, friends, her students, some sporting event (particularly football) or any other aspect of life, she would launch enthusiastically into the subject. A visit or discussion with Sister Pat was never dull or uninteresting because by nature she was outgoing and eager to share ideas and opinions. When asked for an opinion on a subject, she would roll her eyes skyward and say, "Don't get me started." Everyone knew this intelligent, spirited woman kept up with world events, politics, education, religion and current trends in countless other areas. She was a fun person to be with.

What better way to describe Sister Pat's teaching background than to quote her own account: "My teaching career began in Ogden, Utah, at St. Joseph Grade School with 68 second-graders. Since that time I have taught in grades 1 through 12, primarily in California, but also in Nevada. Fifteen of those years I served as principal of three different elementary schools." This segment of her extensive teaching experience spanned the years from 1944 through 1975.

Sister Pat then moved to the high school level where she taught religion, putting to good use her master's degree in Scripture and theology. In addition to this teaching assignment, she excelled in her role as academic counselor and guided the educational progress of hundreds of high school students each year. Her special concern was always the advancement of the seniors as she helped prepare them for academic success as they entered college.

During the years she taught in coeducational high schools, Sister Pat worked with members of various congregations: Holy Cross priests, Holy Cross brothers, Brothers of the Christian School, St. Joseph Sisters of Peace and a whole variety of others. This is worthy of note because she thrived in this environment and was flexible enough to accommodate to the multiplicity of styles and approaches to education without sacrificing her own values or principles.

This same attitude served Sister Pat well during her three months' stay in Tiberius, where she worked while waiting for her visa to go to Uganda in 1976. Mother Olivette (Whalen), superior there at the time, remarked that Sister Pat's ability to adapt to the diverse group of sister-students was a beautiful attribute. Sister Pat's dream of becoming a missionary became a reality when her visa to Uganda was finally granted. Because of her flexible nature, she easily "fitted right in" to the community in Fort Portal, where she was assigned to teach English and African literature. She was a resounding success. She recalled how wonderful it was to work closely with the priests and brothers of Holy Cross where mutual respect, friendship and sharing were enjoyed by all.

Even in faraway Uganda, Sister Pat kept close tabs on the happenings on the football field at the University of Notre Dame, for everyone knew she was a "footballaholic" as she labeled herself. She loved all sports, but football was almost an addiction for her. She knew all the plays and could critique the performance of each team member. She would have been a great asset to the coach.

Recently Sister Pat had to face many physical challenges, but she met them with her strong Irish faith, with courage and perseverance. Long periods in the hospital without the daily consolation of the Eucharist were particularly a hard cross for her to bear. However, she used this time to practice her own style of evangelization with her caregivers.

Sister Pat was a true-blue Westerner, surrounded by family and friends. Therefore, the move to Saint Mary's was not an easy one for her, but true to her deep Irish faith, she accepted it as the will of God. God continued to ask her for more and more, and she lovingly opened her hands giving completely of herself.

One of the newest challenges Sister Pat faced was the stroke that caused her to lose her eyesight. Never one to give up, she wrestled with this new trial. I was visiting with her one afternoon when her phone rang. I moved to hand her the receiver, but she stopped me. She fumbled a bit, but succeeded in finding the receiver herself. Her phone visit with her nephew was upbeat and cheerful. Afterward, it was a little struggle for her to return the receiver to the phone, but she did it with determination — the manner in which she dealt with many obstacles.

Sister Pat's deep love for family and friends never waived; this was a close-knit mutual admiration society and it was a privilege to belong. The warm glow of her love was contagious and it has been spread to many across the world. She will not be forgotten.

Sister Pat now rests in the loving arms of her God and she reaps the reward of her labors for all eternity. Rest in peace, dear sister.