Sister Louis Gonzague (Kullmann), CSC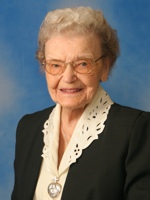 (August 23, 1909 - July 5, 2013)

Word has been received of the death of Sister M. Louis Gonzague (Kullmann), who died at 1:05 a.m. on Friday, July 5, 2013, in Saint Mary's Convent, Notre Dame, Indiana.

Sister Louis Gonzague was the oldest living member of the congregation and was approaching her 104th birthday when she was called home to God. She entered the congregation from Bavaria, Germany, in 1925 and devoted 58 years of service in the elementary and secondary schools of the East.

It is no surprise that Sister Louis chose the Congregation of the Sisters of the Holy Cross when she answered God's call to religious life. The fact that she had a sister (Sister Dolorissima), three cousins (Sisters Chrysanthus, Crescentia, and Hermangild) plus an aunt (Sister Mainarda) who preceded her in Holy Cross confirms the attraction. This family truly gifted the congregation with six strong, committed religious women.

Wherever she taught Sister Louis attempted to set down roots. She wanted to become a vital part of the parish and community where she was assigned, which was why the longer stay of eight years at St. Paul's in New York and at Holy Cross High School in Riverside, New Jersey, were so satisfying for her. Though she found changing from one school to another a somewhat difficult adjustment, in the true spirit of obedience, she cheerfully accepted each new assignment as a challenge.

Sister Louis made a positive impression on the students in whatever school she taught, regardless of how many years she was there. Attesting to that is a congratulatory letter she received signed by 16 women who had been in her American and world history classes at Saint Mary's Academy in Alexandria, Virginia, in 1958. The group was celebrating its 45th high school reunion, and the women took the time to express their gratitude and offer jubilee greetings to Sister Louis on the occasion of her diamond jubilee in 2003 when Sister Louis celebrated 75 years of service to the people of God. Imagine, 55 years later these former students still remembered Sister Louis and sent a monetary gift to the retirement fund in her honor. Fifty-five years is truly a lasting impression!

In 1986, at age 77, Sister Louis moved to Saint Angela Hall in Kensington, Maryland, to begin another phase of religious commitment. She was in charge of the dining room and any other auxiliary service that might be desired to meet the needs of the sisters. Because of her German heritage she was a strong advocate of order and organization; so when given a task, she got things done! Even after moving to Rosary Hall at Saint Mary's 10 years later, she carried that same work ethic with her, doing whatever household tasks were needed.

This does not mean that Sister Louis believed in "all work and no play" because she also was a fun-loving person with a sunny attitude and always entered wholeheartedly into any planned activities. She was willing to be the first one to get up to dance or sing or start a game. Sister Patricia Gantz, her superior in 2002, wrote, "I have experienced Sister Louis as very friendly and loving. She always has a cheery smile for everyone, entering into all the activities of the community."

The deep concern Sister Louis had for the surviving members of her family in Germany demonstrated her serious side. Because of the historical horrors of war and postwar living in Germany, Sister Louis was acutely aware of the suffering of her family and gave them as much comfort as she could by being a good listener and visiting them whenever possible. She often said prayer was really the only enduring support she could give them and this she did faithfully. What rejoicing there must have been when she joined the members of this strong religious family on Friday. Sister Louis Gonzague now rests in peace from her long years of loving service. Great is her reward.