Student Profiles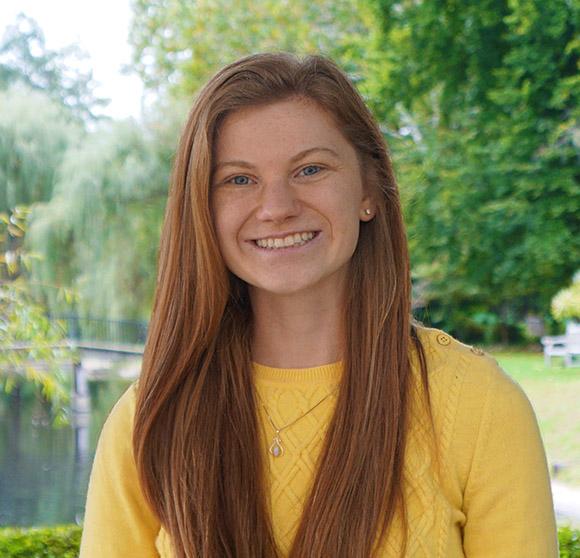 Lauren McGovern
Major(s):
Engineering (Dual Degree)**
Physics
"Saint Mary's has given me the unique opportunity to get hands on experience outside of the classroom."
What drew Lauren McGovern '20 to consider Saint Mary's was the small size of the campus and classes, but what sealed her decision to attend was the personalization she experienced in the application process and during campus visits.
"I was impressed with the personalized attention that Saint Mary's gave me when I was looking for colleges."
Seeking a degree in engineering and math
Lauren came to Saint Mary's with the idea that she wanted to study physics because of her experience with the subject in high school and knew when she arrived that a degree in physics and mechanical engineering was the perfect choice for her.
Saint Mary's has a Five-Year Dual Degree in Engineering Program offered in partnership with the University of Notre Dame. Lauren and her fellow engineering classmates will receive a bachelor's degree from Saint Mary's in a STEM field that relates to engineering — for Lauren, physics and mathematics. These students will finish their studies with a second bachelor's degree in engineering from Notre Dame after an additional year.
Embracing the benefits
Lauren recognizes the benefits of experiencing both Saint Mary's and Notre Dame's campuses and shared "My courses here at Saint Mary's complement the mechanical engineering courses that I am taking over at Notre Dame." She is grateful for her experiences at Saint Mary's, including serving as vice president of the Physics Club, being paired with a sister at the convent through the Friends with Sisters Club, and studying abroad in Ecuador one summer. Lauren has also become close with her physics classmates and professors, which she recognizes as a unique advantage of attending Saint Mary's.
"Since the classes are small, you get to become close friends with the other physics students in your class. The other junior physics majors and I frequently stop into our professors' offices to say hello."
Pursuing a bright future 
A benefit of the personal relationships Lauren has fostered with her professors is their guidance in finding internships and advice on her future career. Though her path may be unclear to her now, Lauren has no worries for her future due to her Saint Mary's education and the support of her professors.
Written by Kaitlin Emmett '20, media relations intern and double major in English literature and writing.