Sister M. Ann Patrice McGinley, CSC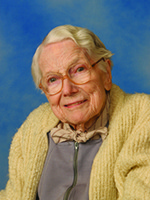 (March 26, 1912 - December 29, 2013)

Word has been received of the death of Sister M. Ann Patrice (McGinley), who died at 10:30 p.m. on Sunday, December 29, 2013, in Saint Mary's Convent, Notre Dame, Indiana.

Sister Ann Patrice chose the field of nursing for her career path and this proved to be the perfect fit for this gentle, compassionate, committed religious woman. To accomplish this goal she enrolled as a student in the Holy Cross Hospital School of Nursing in Salt Lake City, Utah. It was her first contact with the Sisters of the Holy Cross. She graduated with an RN in 1934 and later went on to receive her BS degree to complete her professional preparation. After working in a local clinic for six years, she decided to join the sisters who had trained her so well and inspired her by their dedication. She entered the congregation in 1940 and, as she described it, "spent the next 46 very happy years in hospital ministry" in the hospitals of the West.

Those who worked with Sister Ann Patrice in the various hospitals recognized her special skill in interacting with patients, particularly those who were critically ill. She comforted them and, in her gentle way, helped them to accept their diagnosis and needed treatment; they trusted and loved her. This gift endeared her to the doctors whose patients she cared for and to her co-workers because she eased their tasks. During her years as an operating room nurse, she did much in her quiet way to relieve the tension that often occurred in the crisis situations that arose. It may seem to be a contradiction, but Sister Ann Patrice's gentleness went hand in hand with a righteousness that colored and dictated her course of action in decision-making; she was never harsh.

When serving as a supervisor of nurses, Sister Ann Patrice exacted high performance requirements of those under her charge but dealt kindly with everyone. Because she described herself as "a darn good nurse," she held those under her supervision to the same standards. Sister Rose Virginia (Burt), who was a student nurse under Sister Ann Patrice, characterized her as "the best nurse ever, who ran a very tight ship."

After her bout with cancer, Sister Ann Patrice could no longer do bedside nursing but continued in hospital ministry, her great love. In keeping with the high standards she held, she then learned the skills needed to become a pharmacy assistant and an EEG technologist. In 1984 Sister Ann Patrice accepted a new challenge, spending the next 12 years at Holy Cross Hospital in San Fernando, California, and serving in pastoral care and other related positions wherever she was needed.

Feeling the need to slow down at age 77, Sister Ann Patrice moved to Saint Catherine by the Sea in Ventura, California, where, in her true accommodating manner, she offered herself as a volunteer for numerous tasks. She served as the receptionist, delighting visitors with her Irish humor and refined graciousness. Sister Patrice (McGee), her superior at the time, said of her, "She was a sweetheart and always had a twinkle in her eye."

True to her Irish heritage Sister Ann Patrice had a great devotion to the Blessed Mother under the title of Our Lady of the Rosary. She prayed this special prayer with the sisters when they gathered in the social area on her floor. No doubt her Irish eyes were smiling as she entered into the glory reserved for those who serve the Lord with gladness. May Sister Ann Patrice rest in peace.