Sister M. Joelle Sabin, CSC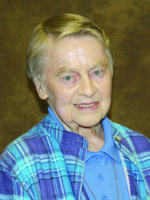 (May 17, 1925 - January 3, 2014)

Word has been received of the death of Sister M. Joellen (Sabin), who died at 5:30 p.m. on Friday, January 3, 2014, in Saint Mary's Convent, Notre Dame, Indiana.

Sister Joellen had many characteristics that endeared her to those who had the privilege of knowing her. Though she was very private about her own life, she went out of her way to help and support family, friends, co-workers and anyone who was in need. She was particularly kind to anyone who was sick. Empathy best describes her ability to understand and respond to the needs of the sick because Sister Joellen herself suffered many serious health issues during her life.

Educators and supervisors agree that teaching first-graders takes a special personality and definite skills. During her 30 years as a first-grade teacher, Sister Joellen demonstrated her mastery in both areas. Her special ability to relate well with the small boys in her classes made her the envy of other first-grade teachers. All of her students loved her, but those mischievous little fellows, who could try the patience of most teachers, simply turned into docile followers of this remarkable "Pied Piper." Because of her excellence as a primary teacher, she mentored other teachers who wanted to learn the secret of her success and to emulate her techniques.

Compassion for others gained her many lifelong friendships. Sister Joellen often disregarded her own needs in order to be available to those who sought her help or comfort. Her long years of service at Holy Cross School in Garrett Park, Maryland, and Blessed Sacrament School in Washington, D.C., attest to her success and popularity. She ministered with love and devotion. It was with this same love and devotedness that she embraced each member of her family, so it is easy to understand the great loss she felt this year at the death of her sister Catherine, the last of her siblings.

The saying "cleanliness is next to godliness" is an appropriate truism that fit Sister Joellen. If you went to the dictionary and looked up the word cleanliness, it's not hard to imagine that you might find her name listed under examples of the word. She was almost a fanatic in the art of cleaning and seemed to have unlimited energy when she tackled a challenging job. Even when she was ill you might find her down on hands and knees cleaning the bathroom — she did it to perfection.

As in all things, Sister Joellen gave herself completely to developing her spiritual life. It was her deep love of Jesus that sustained her each day in her religious commitment. St. Joseph, her namesake, was her partner through life and walked with her during times of joy and trial. It was probably St. Joseph who "opened the gates of heaven" on Friday, welcoming her home where she will rest in peace.