Sierra Leone Princess to Speak to Multicultural Class of 2012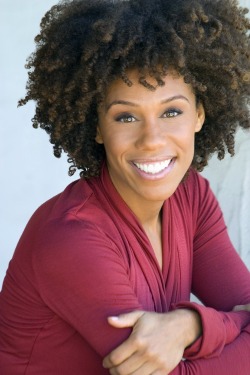 Sarah CulbersonContact:
Gwen O'Brien 
Director of Media Relations
Saint Mary's College
Notre Dame, IN 46556
(574) 284-4579
April 27, 2012 (Notre Dame, Ind.)—Sarah Culberson, an African princess, will make her first visit to Saint Mary's College on Sunday, May 6 to speak to the multicultural members of the Class of 2012. The annual Multiethnic Commencement Celebration will take place at 6:30 p.m. in the Student Center Lounge (campus map). While this event is not open to the public, the media is invited to cover it. Student Involvement and Multicultural Services (SIMS) hosts this annual event. SIMS provides services and programs that address the academic and personal needs of underrepresented students at the College, while offering multicultural education opportunities for the entire campus community.
 "The Student Involvement and Multicultural Services office provides positive role models for our students of color," said Stephanie Steward-Bridges, director of SIMS. "We are thrilled to host Sarah Culberson as that role model this year."
Students developed the idea for the theme of this year's Multiethnic Commencement Celebration, which is "Stepping Stones Around the World." Culberson will share her personal journey of self-discovery during her address.
Culberson was born in Morgantown, West Virginia to an African father and a white mother. As an infant, she was given up to foster care, adopted by a loving white family, and grew up contemplating her identity and her biracial roots. In early childhood, Culberson fell in love with theatre and later won an acting scholarship to attend West Virginia University. She earned her Master of Fine Arts (MFA) at the American Conservatory Theatre in San Francisco and joined the Los Angeles acting community. She has since been acting on stage, in film, and on television, appearing in such shows as Strong Medicine, All of Us, Boston Legal, The Secret Life of the American Teenager, and in the film American Dreamz.
However, Culberson's most significant life experience is when she set out to locate her birth parents. After learning that her biological mother had died when she was just 11, Culberson discovered that her father lived in a village in the Republic of Sierra Leone in West Africa. She learned that she is from a royal family, the granddaughter of a paramount chief, with the status of a princess. Culberson also learned of the severe difficulties Sierra Leone faces. The discovery of her unique heritage changed her life forever. Now, as co-founder and president of The Kposowa Foundation (www.bumpefund.org ) in Los Angeles, she and many others work to rebuild and provide opportunity for the people of Sierra Leone, and to improve education for the country's youth.
"Culberson has taken a personal responsibility for the betterment of a country she has only been acquainted with for just a few short years and decisively moved to make it a better place," said Steward-Bridges. "Her commitment to education and Sierra Leone will speak to this year's graduates as they complete their four years at Saint Mary's College. Her presence will challenge the graduates to think about how the steps they take can make their world a better place."
In addition to raising awareness about Sierra Leone, Culberson speaks nationally and internationally, sharing her inspirational journey to find her birth father in a war-torn country. She continues to inspire young people and adults to overcome their fears, take on their dreams, and to learn about the children in Sierra Leone.
The evening will begin with a prayer, delivered by a student and opening remarks by Saint Mary's College President Carol Ann Mooney. Reflections from the Class of 2012 and an awards ceremony will begin at 6:50 p.m. Culberson will speak at 7:15 p.m.
The 2012 Commencement will be held at noon on May 19.
About Saint Mary's College: Saint Mary's College, Notre Dame, Ind., is a four-year, Catholic, women's institution offering five bachelor's degrees and more than 30 major areas of study. Saint Mary's College has six nationally accredited academic programs: social work, art, music, teacher education, chemistry and nursing. Saint Mary's College ranks among the top 100 "Best National Liberal Arts Colleges" for 2012 published by U.S.News and World Report. Founded in 1844, Saint Mary's is a pioneer in the education of women, and is sponsored by the Sisters of the Holy Cross.