2012 Alumna Achievement Award Announced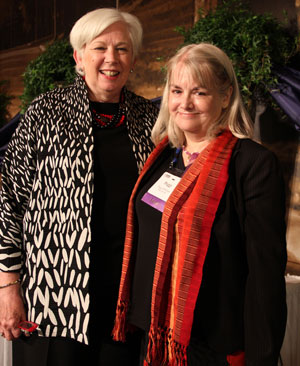 Saint Mary's College President Carol Ann Mooney
'72 poses with Peggy Perkinson '72 following the
Reunion Banquet.Contact:
Gwen O'Brien 
Director of Media Relations
Saint Mary's College
Notre Dame, IN 46556
(574) 284-4579
June 5, 2012 (Notre Dame, Ind.)—The Alumna Achievement Award, awarded annually by the Alumnae Association of Saint Mary's College, honors an alumna who is outstanding in her personal and professional accomplishments and is a recognized leader in her field of endeavor. The honoree exemplifies the standards, ideals, and mission of the College in its commitment to the value of a Christian liberal arts education. This year's recipient is Margaret (Peggy) Perkinson '72 of Saint Louis. She received the Alumna Achievement Award at the Reunion Banquet Saturday, June 2 as part of Reunion Weekend, May 31-June 3.
Perkinson is an internationally respected anthropologist and gerontologist who serves as associate professor with the Department of Occupational Science and Occupational Therapy at the Doisy College of Health Science at Saint Louis University.
Perkinson received her bachelor of arts in humanistic studies at Saint Mary's College. She went on to earn a master of arts in cultural anthropology from the University of Missouri and a doctor of philosophy in human development and aging at the University of California at San Francisco.
Throughout her career, Perkinson has researched a wide variety of topics, including exercise and dementia; how grandparenthood impacts psychological well-being; the older worker in the new global economy; and the social dynamics of diabetes management.
Perkinson has authored dozens of articles and book chapters. She has actively contributed to many professional organizations, has won dozens of grants, and has served as consultant or investigator for more than 20 research projects and programs to study and improve the lives of older adults. She is a fellow of the Gerontological Society of America, the Association for Gerontology in Higher Education, and the Society for Applied Anthropology; past president of the Association for Anthropology and Gerontology; and current editor-in-chief of the Journal of Cross-Cultural Gerontology.
Her professional and personal interests led her to work with NAPA, the National Association for the Practice of Anthropology, to establish the NAPA-OT Field School in Antigua, Guatemala with colleagues from Oxford, USC, and the University of Arizona. Perkinson currently serves as director of the community-based gerontology component of the school. Her students work in a residential care facility for older adults, providing residents with intensive and comprehensive care.
This is only one of Perkinson's connections to Guatemala. On her own time, she is collaborating with the Saint Louis University legal clinic to attain nonprofit status for Casa Maria, a residential eldercare facility in San Felipe, Guatemala. This would allow Casa Maria to receive charitable contributions to support indigent residents.
In addition, Perkinson and her husband of 25 years, David Rockemann, sponsor three Guatemalan children, ages 4, 7, and 7 through a project called Common Hope. She and Rockemann have formed close relationships with the children and their families through visits and frequent correspondence. The couple not only pays for the children's education and health care, but has also covered medical costs for the three families.
In nominating Perkinson for this award, Nora Sullivan Frein '72 wrote, "Peggy's entire life reflects the values that Saint Mary's nurtures in its students. She is dedicated to her profession and academic pursuits, and has enjoyed tremendous success in her field. But, more importantly, she integrates a genuine and personal commitment to the well-being of others into her life and work."
Click to see Perkinson's remarks after receiving the recognition at the Reunion Banquet on June 2. Click for information on the other 2012 Alumnae Association Award recipients.
About Saint Mary's College: Saint Mary's College, Notre Dame, Ind., is a four-year, Catholic, women's institution offering five bachelor's degrees and more than 30 major areas of study. Saint Mary's College has six nationally accredited academic programs: social work, art, music, teacher education, chemistry and nursing. Saint Mary's College ranks among the top 100 "Best National Liberal Arts Colleges" for 2012 published by U.S.News and World Report. Founded in 1844, Saint Mary's is a pioneer in the education of women, and is sponsored by the Sisters of the Holy Cross.