2012 Alumnae Association Award Recipients Announced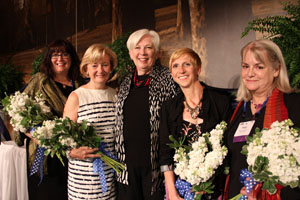 President Carol Ann Mooney '72, center, poses with the
2012 Alumnae Association Award Recipients Margaret Ann
Monahan '87, Kitty Plunkett Freidheim '67, Sara Mahoney '04,
and Peggy Perkinson '72 (from left to right).Contact:
Gwen O'Brien 
Director of Media Relations
Saint Mary's College
Notre Dame, IN 46556
(574) 284-4579
June 5, 2012 (Notre Dame, Ind.)—Saint Mary's College is pleased to announce the recipients of the 2012 Alumnae Association Awards, which were distributed at the Reunion Banquet Saturday, June 2 as part of Reunion Weekend, May 31-June 3. The following is the list of the awards and the recipients. Click on the names to learn more about them. The Distinguished Alumna Award is the Alumnae Association's highest recognition.
Distinguished Alumna Award: Kathleen (Kitty) Plunkett Freidheim '67
Alumna Achievement Award: Margaret (Peggy) Perkinson '72
Humanitas Award: Margaret Ann Monahan '87
Outstanding Young Alumna Award: Sara Mahoney '04
The Outstanding Senior Award, which is given to a graduating senior, was awarded at the Alumnae Senior Luncheon held in May.
Outstanding Senior Award: Anabel Castañeda '12

If you are with the media and would like to interview the award recipients or others, please contact Gwen O'Brien, Director of Media Relations.
About Saint Mary's College: Saint Mary's College, Notre Dame, Ind., is a four-year, Catholic, women's institution offering five bachelor's degrees and more than 30 major areas of study. Saint Mary's College has six nationally accredited academic programs: social work, art, music, teacher education, chemistry and nursing. Saint Mary's College ranks among the top 100 "Best National Liberal Arts Colleges" for 2012 published by U.S.News and World Report. Founded in 1844, Saint Mary's is a pioneer in the education of women, and is sponsored by the Sisters of the Holy Cross.