Gates Millennium Scholar Chooses Saint Mary's Over Others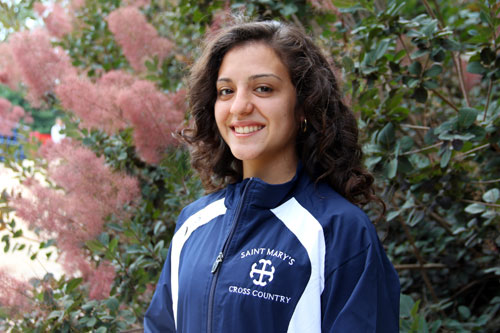 Clarisa Medina '16 is Saint Mary's College's first
Gates Millennium Scholar.Contact:
Gwen O'Brien
Director of Media Relations
Saint Mary's College
(574) 284-4579
September 17, 2012 (Notre Dame, Ind.)—Saint Mary's College is proud to announce that a member of the Class of 2016 is a Gates Millennium Scholar. Clarisa Medina of San Antonio, Texas is one of 1,000 extraordinary high school students this year to receive a scholarship to attend the college or university of the student's choosing. Medina chose Saint Mary's. She is the College's first Gates Millennium Scholar.
"I knew that if I wanted to be successful in the classroom and feel empowered as a woman then I needed to come to Saint Mary's College," said Medina of the Catholic, women's college. "This scholarship has taught me that hard work pays off and with heart and desire anything is possible. I feel invincible and empowered to impact the world."
"We are delighted and honored that Clarisa chose to attend Saint Mary's College out of all of the colleges and universities that she could have chosen," said Vice President for Enrollment Management Mona Bowe. "Saint Mary's Mission Statement boldly says, 'the College is an academic community where women develop their talents and prepare to make a difference in the world.' Clarisa arrived on campus as someone with many talents who has already been making a difference."
The Gates Millennium Scholars Program is an elite and highly competitive program. Among the eligibility requirements, applicants must be legal residents of the U.S. or American territories, must have a cumulative high school GPA of 3.3 (on a 4.0 scale), and have demonstrated leadership abilities through participation in community service, extracurricular, or other activities.
Medina exceeded the requirements. "My mother has always told me to do my best in all that I do, and I believe the Gates saw that I truly did my best in school, athletics, extracurricular activities, and everything I participated in. I knew that if I wanted to exceed a high school diploma, I needed to stand out."
And stand out, she did. "In high school I was involved in 26 extracurricular activities, three varsity sports, church organizations, and I was enrolled in all AP (Advanced Placement) or honors courses."
One activity where she invested her time was with the Girl Scouts. "I have been a Girl Scout for 13 years and I finished my last year of scouting by earning my Girl Scout Gold Award, which is an equivalent to the Eagle Scout Award (Boy Scouts). In order to receive this honor I raised ten thousand dollars to host a camp called Run the World, empowering middle school girls to take advantage of opportunities now so they can be successful in their futures. I had a motivational speaker come in as well as teachers, doctors, and professors to teach various subjects including math, science, public speaking, writing, goal setting, and self- defense."
Medina plans to major in global studies and political science at Saint Mary's. One day she hopes to start a non-profit organization also called Run the World, which would focus on women's equality. Her long-term dream is to be a U.S. Ambassador.
In the meantime, Medina is getting acquainted with life on campus. She made the cross country team and plans to try out for softball in the spring. She was happy to find out on Move In Day that her sister Cecily, a sophomore at Saint Mary's, would be living just across the hall. Growing up in a family of 8 children, the sisters say it's nice to have family close.
This year's Gates Millennium Scholars represent 47 states, the District of Columbia, the Marshall Islands, and four U.S. territories. They are enrolled at approximately 350 colleges and universities across the country.
Established in 1999 with the goal of developing Leaders for America's Future™, the Gates Millennium Scholars Program is funded by a $1.6 billion grant from the Bill & Melinda Gates Foundation. To date, over 16,000 students have received the scholarships, attending more than 1,500 schools.
The program provides recipients with leadership development opportunities, mentoring, academic and social support as well as financial support.
"Education continues to be the best pathway to opportunity, and we believe that college costs should not be an obstacle along that path," said Jim Larimore the deputy director for student success at the Bill & Melinda Gates Foundation. "That's why scholarships like the Gates Millennium Scholars Program and others are so important. Scholarships provide students who have the will to get a postsecondary education with a way to get one, thereby securing a better future for themselves, their families and their communities."
UNCF (United Negro College Fund) administers the Gates Millennium Scholars Program. UNCF partners with the Hispanic Scholarship Fund (HSF), the American Indian Graduate Center Scholars (AIGCS), and the Asian & Pacific Islander American Scholarship Fund (APAISF) to select and provide service to Gates Millennium Scholars.
About Saint Mary's College: Saint Mary's College, Notre Dame, Ind., is a four-year, Catholic, women's institution offering five bachelor's degrees and more than 30 major areas of study. Saint Mary's College has six nationally accredited academic programs: social work, art, music, teacher education, chemistry and nursing. Saint Mary's College ranks among the top 100 "Best National Liberal Arts Colleges" for 2013 published by U.S. News. Founded in 1844, Saint Mary's is a pioneer in the education of women, and is sponsored by the Sisters of the Holy Cross.