Dance Arts 2013: DanceSpeaks is Feb. 14-16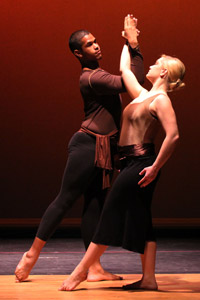 Contact:
Gwen O'Brien
Director of Media Relations
Saint Mary's College
gobrien@saintmarys.edu
(574) 284-4579
February 5, 2013 (Notre Dame, Ind.)—The Saint Mary's College Dance Ensemble Workshop will take the stage of Little Theatre* on Thursday, February 14 through Saturday, February 16 to perform Dance Arts 2013: DanceSpeaks. Curtain times are 7:30 p.m. on Thursday through Saturday, in addition to a 2 p.m. matinee on Saturday. Dance Arts is an annual presentation of the Program in Dance, which is part of the Department of Communication Studies, Dance, and Theatre. Click for a campus map.
Artistic director Laurie Lowry, a member of the dance faculty, says DanceSpeaks will present a variety of dance styles to help the students to grow as artists and give the audience a chance to experience new works by local artists. Most of the performers are pursuing a dance minor. The Dance Ensemble Workshop features technically proficient dancers who must audition for enrollment in the academic course.
The program is made up of 11 dances and will include Spanish-style ballet, contemporary ballet, dramatic contemporary ballet, a Japanese/ballet blend, and various modern dance styles. In all nine students and two alumnae will perform. Choreographers include dance faculty members Lowry, Indi Dieckgrafe-Dreyer, and Michele Kriner as well as guest choreographers Katie Bacone '03 and Lisa Frank.
Lowry hopes those who attend DanceSpeaks truly feel as though the dances have spoken to them and that they walk away with an even greater appreciation for the arts.
"I feel the arts bring peace, curiosity, patience, awakening, understanding, and unites all humans with common experiences and feelings," Lowry said. "We laugh, cry, seek understanding, communicate, listen, and simply enjoy while experiencing art. If we could bring an artistic experience to every human, our world might yearn for different goals. I encourage everyone to search for an art, dance, music or theater class and experience for yourself the great joy art can bring you. Let art speak through you."
Highlights of DanceSpeaks will include the premier of the following dances: "Aurora," "Say Something," "Kerotakis," "Parenthesis," "Where the Shore Meets the Sea," and "3M." Two students will perform Lowry's choreographed dance "Kokoro," which won first place in California's Ballet's Choreographers contest in 1988. Another dance, "The Rubber Band Trilogy," choreographed by Dieckgrafe-Dreyer and a student cast, will be accompanied by the music of Kentucky T. Dutchersmith and The Rubber Band of Goshen, Indiana.
The dance "3M" is a collaboration of Kriner, photographer and scenographer Michaela Duffy, and costume designer Melissa Bialko who brought together movement, light, photography, and costuming.
"Light is an extremely important element in visual arts, to the point where some art movements focus predominantly on light," Duffy noted. "Monet, the 'godfather of light' for the impressionists, would say that he was not painting the same subject over and over but rather that he was painting the light—capturing a moment in time. Light allows us to observe the world around us, allowing us to see color, texture, form, movement, pattern, and so on. While the photos (used in the dance) are nothing close to an impressionist painting, they too focus on the importance of light. The subject of them is light itself."
Tickets may be purchased online at moreaucenter.com, by visiting the Moreau Center Box Office Monday-Friday, 9 a.m. to 5 p.m., or calling (574) 284-4626.
Ticket prices are as follows:
Adults: $13
Senior Citizens: $12
SMC/ND/HCC Faculty and Staff: $10
SMC/ND/HCC Students: $8
*This program was originally scheduled for O'Laughlin Auditorium, but was moved to Little Theatre due to work being done to repair the auditorium after a January 27 fire.
About Saint Mary's College: Saint Mary's College, Notre Dame, Ind., is a four-year, Catholic, women's institution offering five bachelor's degrees and more than 30 major areas of study. Saint Mary's College has six nationally accredited academic programs: social work, art, music, teacher education, chemistry and nursing. Saint Mary's College ranks among the top 100 "Best National Liberal Arts Colleges" for 2013 published by U.S. News. Founded in 1844, Saint Mary's is a pioneer in the education of women, and is sponsored by the Sisters of the Holy Cross.