Dance Marathon Raises $80,000+ for Riley Hospital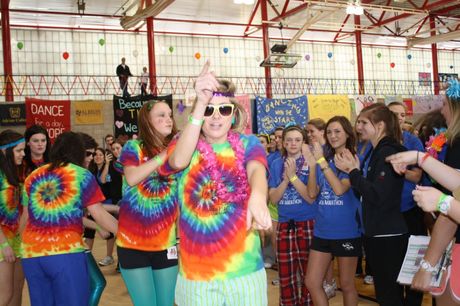 Contact:
Gwen O'Brien 
Director of Media Relations
Saint Mary's College
Notre Dame, IN 46556
(574) 284-4579
April 1, 2012 (Notre Dame, Ind.)—The Saint Mary's College Dance Marathon held yesterday at the College raised $80,523 for Riley Hospital for Children in Indianapolis. That exceeds the fundraising goal of $76,000. The total includes monies raised at "Mini-Marathons" held at Warsaw High School, Bremen High School, and Northridge Middle School, with the help of Saint Mary students. In April and May, Marian High School, Saint Joseph's High School, and Elkhart Central High School will host Mini-Marathons.
Riley Hospital treats sick children from all over the state, including the South Bend area.
Since Saint Mary's students began the Dance Marathon in 2006, they have raised more than $460,000 for the General Benefit Fund at Riley, which supports the areas of the hospital that have the greatest need. 
Click for the orginal press release on this year's event.
About Saint Mary's College: Saint Mary's College, Notre Dame, Ind., is a four-year, Catholic, women's institution offering five bachelor's degrees and more than 30 major areas of study. Saint Mary's College has six nationally accredited academic programs: social work, art, music, teacher education, chemistry and nursing. Saint Mary's College ranks among the top 100 "Best National Liberal Arts Colleges" for 2012 published by U.S.News and World Report. Founded in 1844, Saint Mary's is a pioneer in the education of women, and is sponsored by the Sisters of the Holy Cross.