2012 Distinguished Alumna Award Recipient Announced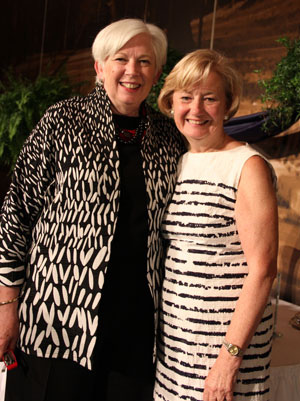 Saint Mary's College President Carol Ann Mooney '72
poses with Kitty Plunkett Freidheim '67 following the
Reunion Banquet.Contact:
Gwen O'Brien 
Director of Media Relations
Saint Mary's College
Notre Dame, IN 46556
(574) 284-4579
June 5, 2012 (Notre Dame, Ind.)—The Distinguished Alumna Award, awarded annually by the Alumnae Association of Saint Mary's College, honors a woman who exemplifies the standards, ideals, and mission of the College and who has given outstanding service through ongoing work for the Alumnae Association. The award is the association's highest recognition. The 2012 recipient is Kathleen (Kitty) Plunkett Freidheim '67 of Chicago. She received the Distinguished Alumna Award at the Reunion Banquet Saturday, June 2 as part of Reunion Weekend, May 31-June 3
After graduating from Saint Mary's with a bachelor of arts in government, Freidheim went on to earn her master's degree in policy and planning from the University of Chicago. In 1986 she joined the City of Chicago Department of Aviation, where she served as managing deputy commissioner for 18 years. Today she is a nationally recognized expert in the field of airport planning.
While the millions of people who travel through Chicago airports each year may not know Freidheim by name, they certainly know her work. In her job as managing deputy commissioner, she directed airfield planning activities for the Chicago Airport System. She was responsible for planning the International Terminal at O'Hare International Airport, the Midway Airport Terminal Development Program, the World Gateway Program, and renovations within the existing domestic terminal complex. She oversaw every component of terminal planning, including aircraft layouts, people mover systems, public transit, parking, roadways, signage, concessions, ticket counters, and security. She also directed planning for vital behind-the-scenes components including baggage systems, mechanical systems, salt domes, and deicing facilities.
In 2004 she formed Freidheim Consulting, which provides aviation planning and real estate advisory services. Clients have included the City of Chicago Department of Aviation, Washington Metropolitan Airport Authority, McCarran International Airport in Las Vegas, San Diego Airport Authority, Metropolitan Nashville Airport Authority, and Toledo Express Airport, as well as private clients. She is the current chair of the Airport Council International World Business Partners/Associates Board and serves on the oversight committee of the FAA research grant program by appointment of the U.S. Secretary of Transportation.
In addition to her remarkable professional accomplishments, Freidheim has actively served her community through volunteer service. As a member of the Women's Board of the Rehabilitation Institute of Chicago, she has worked on its capital campaigns. She also serves on the Real Estate Advisory Committee of the Metropolitan YMCA of Chicago and as a board member of the Neighborhood Capital Institute. 
Over the years, Saint Mary's College and Alumnae Association have also benefitted from Freidheim's abundant expertise, leadership, and dedication. She has been a member of the President's Advisory Council and presently serves on the Chicago Advisory Council. Freidheim led the Reunion Gift Campaign Committee in 2006-2007 and is a current member of the committee.
In her nomination of Freidheim, Jo Ann Grima MacKenzie '69 wrote, "Kitty shares her considerable corporate skills with her alma mater at the highest level. She is a generous benefactor and dedicated alumna who has stayed close with her classmates these past 45 years. She is a leader in all aspects of her life."
Click to see Freidheim's remarks after receiving the recognition at the Reunion Banquet on June 2. Click for information on the other 2012 Alumnae Association Award recipients. 
About Saint Mary's College: Saint Mary's College, Notre Dame, Ind., is a four-year, Catholic, women's institution offering five bachelor's degrees and more than 30 major areas of study. Saint Mary's College has six nationally accredited academic programs: social work, art, music, teacher education, chemistry and nursing. Saint Mary's College ranks among the top 100 "Best National Liberal Arts Colleges" for 2012 published by U.S.News and World Report. Founded in 1844, Saint Mary's is a pioneer in the education of women, and is sponsored by the Sisters of the Holy Cross.