"Down the Avenue" Raises $330,000 for Scholarship and Volunteer Efforts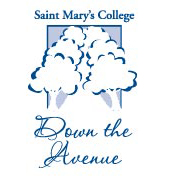 Contact:
Gwen O'Brien 
Director of Media Relations
Saint Mary's College
Notre Dame, IN 46556
(574) 284-4579
June 20, 2013 (Notre Dame, Ind.)—Saint Mary's College is proud to announce that last evening's Down the Avenue gala raised $330,000 for the establishment a scholarship for students who are active volunteers in Michiana and to support the College's Office for Civic and Social Engagement (OCSE), which facilitates local volunteer efforts. It is the largest amount raised from a Down the Avenue event and the fifth time the College has held it.
Down the Avenue recognizes the service of individuals who exemplify the College's mission to prepare women for roles of leadership and action. The scholarship will be established in memory of Patricia George Decio, a former member of the College's Board of Regents and one of the Down the Avenue honorees. More than 540 community and business leaders, Saint Mary's College Board of Trustee members, alumnae, and friends attended the dinner.
"The spirit of service is an integral part of the life of Saint Mary's College. In fact, 80 percent of our students volunteer their time to service," said Carol Ann Mooney, president of Saint Mary's College. "The funds raised at Down the Avenue will help support our volunteer efforts so that the College and its students can continue to make a difference in Michiana and beyond. We are so grateful to these donors."
Down the Avenue refers to The Avenue, which is the main street through the Saint Mary's campus. The thoroughfare leads to the College and the convent of the Sisters of the Holy Cross and back out into the community. It's been a road well traveled by the three women were recognized with Spirit of Service Awards at Down the Avenue. All three traveled back and forth along The Avenue, to and from their various service destinations.
Among the honorees were Decio, who was recognized as the Community Honoree. Sister Mary Turgi, CSC, who taught mathematics at the College and worked in Campus Ministry, is the Sisters of the Holy Cross Honoree. Maeva Alexander, who graduated from Saint Mary's last month, is the Student Honoree. Click to read about these outstanding honorees.
About Saint Mary's College: Saint Mary's College, Notre Dame, Ind., is a four-year, Catholic, residential, women's liberal arts college offering five bachelor's degrees and more than 30 major areas of study, such as business, nursing, art, chemistry, and social work. The College's single-gender environment has been proven, in study after study, to foster confidence, ethical leadership, and strong academic success. Saint Mary's College ranks among the top 100 "Best National Liberal Arts Colleges" for 2013 published by U.S. News. Founded in 1844 by the Sisters of the Holy Cross, Saint Mary's College's mission is to educate women and prepare them for postgraduate success whether it's a first job, graduate school, or postgraduate service.