New Department in Gender and Women's Studies Offers New Major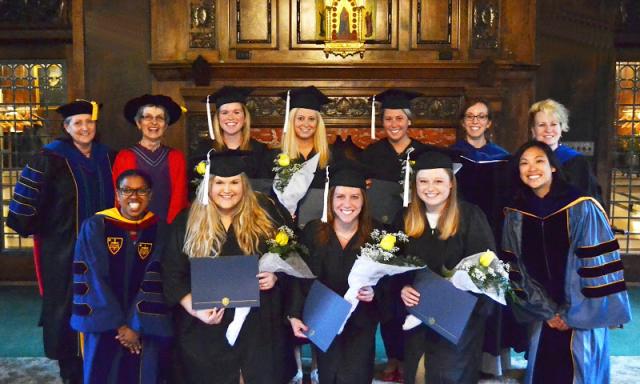 2014 graduates who minored in gender and women's studies
pose with GWS faculty.Contact:
Gwen O'Brien 
Director of Media Relations
Saint Mary's College
Notre Dame, IN 46556
(574) 284-4579
August 29, 2014 (Notre Dame, Ind.) — Saint Mary's College begins the 2014-15 year with a new academic department, the Department of Gender and Women's Studies (GWS), and a new interdisciplinary major in GWS. The College has offered a minor in women's studies since in 1985. The program became known as gender and women's studies in 2012, and in February of this year the Academic Affairs Council approved GWS as a major. The minor remains an option for students.
"The name change reflects both current developments in the field and the diversity of our curriculum, which includes courses on masculinity and women's experiences in different historical periods and cultural contexts," said Stacy Davis, associate professor and chair of the department.
Students who major or minor in gender and women's studies enroll in courses housed both entirely in GWS and those offered in other disciplines. Faculty include representatives from departments throughout the College, including anthropology, art, communication studies, English literature, history, political science, psychology, religious studies, social work, and sociology.
"Having a major is the culmination of years of hard work from faculty and students. After almost 30 years as a program (offering a minor), it's exciting to be only the second interdisciplinary department at Saint Mary's," Davis said.
Two years ago, Saint Mary's began offering an interdisciplinary major and minor through the Department of Global Studies whereby students learn about the economic, historical, cultural, geographical, and political factors that influence global processes.
A major or minor in GWS supports career choices in human services, education, business, public policy, and other fields calling for social and historical awareness, critical thinking, and engagement with human diversity. GWS examines not only the present but also the past, not only the United States but also today's increasingly global, transnational world. GWS students develop the skills to interpret and to analyze systems of oppression and, ultimately, to work toward a more just human society.
Kylie Garabed '17 is the first intended GWS major. She hopes to one day be a publisher, but notes that her GWS studies will allow her to be a more rounded individual, no matter what career she pursues. "I don't think I could be successful in any field without realistic ideas of the world that I'll be entering after school. Majoring in GWS is a choice I made to further my understanding of myself, society, and issues that women face."
Click for more information on the GWS major and minor.
About Saint Mary's College: Saint Mary's College, Notre Dame, Ind., is a four-year, Catholic, residential, women's liberal arts college offering five bachelor's degrees and more than 30 major areas of study, such as business, nursing, art, chemistry, and social work. The College's single-gender environment has been proven, in study after study, to foster confidence, ethical leadership, and strong academic success. Saint Mary's College ranks 76 among the 248 "Best National Liberal Arts Colleges" for 2014 published by U.S. News and World Report. Founded in 1844 by the Sisters of the Holy Cross, Saint Mary's College's mission is to educate women and prepare them for postgraduate success whether it's a first job, graduate school, or postgraduate service.