Welcome to the Department of Global Studies!
Global studies prepares students to fully participate in the worldwide community by applying disciplinary knowledge in cultural context. The department offers an interdisciplinary major in global studies with eight possible concentrations. Students may also pursue a minor in global studies as well as in anthropology.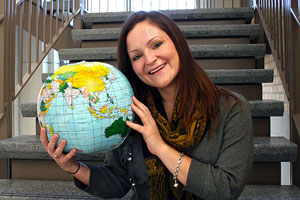 The major is built around a core of globally oriented social science courses. Students learn about the economic, historical, cultural, geographical, and political factors influencing global processes. With eight possible concentrations, a student can take advantage of a wide array of curricula at Saint Mary's and tailor her major to her interests and future professional goals. Courses deal with topics as diverse as women in Africa and the Middle East; globalization and economic development; migration and diasporas; politics of multiculturalism; international trade and finance; European literature, history and culture.