The Henry Luce Foundation Awards Saint Mary's $240K Grant for STEM Scholarships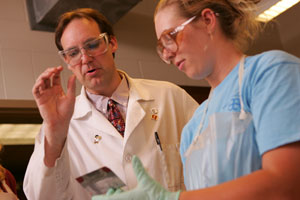 Christopher Dunlap, associate professor of chmistry, works
with a student in the lab.Contact:
Gwen O'Brien
Director of Media Relations
Saint Mary's College
(574) 284-4579
September 10, 2012 (Notre Dame, Ind.)—Saint Mary's College is proud to announce that the Henry Luce Foundation under the Clare Boothe Luce Program has awarded the College $240,000 to provide four merit-based scholarships to students in the disciplines of STEM (science, technology, engineering and math). Beginning with the 2013-14 academic year, scholarships will be awarded to Saint Mary's students pursuing majors in chemistry, computational mathematics, mathematics, or participating in the Dual Degree Program in Engineering program in conjunction with the University of Notre Dame.
There are two essential goals for the Clare Boothe Luce Scholarship program:
To provide financial resources and learning opportunities necessary for scholarship recipients to pursue their degrees and excel in their disciplines. This includes promoting opportunities for research and internship experience and increasing awareness of career options in their respective fields of study.
To help reach other young women and girls to encourage their interest in science, mathematics, and engineering. This will involve engaging in College-sponsored volunteer and outreach efforts with area secondary schools and local organizations.
Saint Mary's College President Carol Ann Mooney said this recognition from the Henry Luce Foundation strengthens the College's continued efforts to attract and retain talented women and to contribute to the advancement of women in science, mathematics and engineering.
"Studies show that there is a significant gender gap in STEM professions. For example, while women fill close to half of the jobs in the U.S. economy, they hold less than 25 percent of STEM jobs,*" Mooney said. "Because Saint Mary's has taught science to women for 150 years, we are uniquely positioned to bridge that gender gap to not only retain women in STEM studies, but to attract them to these fields."
The Clare Boothe Luce Scholarship program will be implemented over a four-year period. Scholarship recipients will be selected through a competitive application process. The scholarships will cover tuition and fees and a book allowance for the final two years of a recipient's academic career at Saint Mary's. The program will include opportunities to engage in professional development and community outreach. Students must be U.S. citizens and have a grade point average of at least 3.5. Those intending to pursue a career as a health care professional, however, will not be eligible.
Scholarship recipients will participate in career development activities to learn about the practical applications of their education, which may include attending a professional meeting or scholarly research conference. The women who receive these scholarships will also be involved in activities to encourage other young girls to pursue their education in science or mathematics. Such activities might include visiting classrooms at local schools, participating as a judge at a science fair, or mentoring a young girl interested in these fields of study.
"The scholarship program will produce several important benefits, the heart of which will involve identifying four exceptional role models who will inspire other women to pursue their education and careers in science and engineering," said Christopher Dunlap, associate professor and chair of the Department of Chemistry and Physics and the project director of the Clare Boothe Luce Scholarship program. "The program will afford opportunities for the recipients to gain valuable experiences and to interact with mentors and other professionals in their field."
Saint Mary's College students interested in the scholarships may attend two "STEM Night" informational meetings. Dates will be announced to the College community later, but are anticipated for late in the fall semester (2012) and early in the spring semester (2013). Scholarships will be awarded beginning in the spring of 2013 for the 2013-14 academic year. For more information about the program, contact Professor Dunlap.
This STEM scholarship program is one example of the College's dedication to educating women in the STEM fields. Click for information about another STEM scholarship program at Saint Mary's thanks to the generosity of the National Science Foundation. Click to read a 2011 press release about a combined $10 million gift in 2011 to renovate Science Hall.
---
* Women in STEM: A Gender Gap to Innovation. ESA Issue Brief #04-11, August 2011, U.S. Department of Commerce, Economics, and Statistics Administration
 About Saint Mary's College: Saint Mary's College, Notre Dame, Ind., is a four-year, Catholic, women's institution offering five bachelor's degrees and more than 30 major areas of study. Saint Mary's College has six nationally accredited academic programs: social work, art, music, teacher education, chemistry and nursing. Saint Mary's College ranks among the top 100 "Best National Liberal Arts Colleges" for 2012 published by U.S.News and World Report. Founded in 1844, Saint Mary's is a pioneer in the education of women, and is sponsored by the Sisters of the Holy Cross.