National Science Foundation Awards Saint Mary's $600K Grant for STEM Scholarships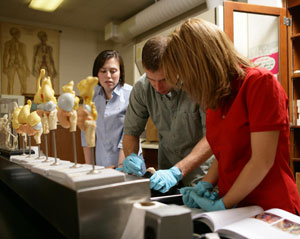 Ryan Dombkowski, associate professor of biology,
works in the lab with students.Contact:
Gwen O'Brien
Director of Media Relations
Saint Mary's College
(574) 284-4579
September 10, 2012 (Notre Dame, Ind.)—Saint Mary's College is proud to announce that the National Science Foundation (NSF) has awarded the College more than half a million dollars to promote the advancement of women in science and engineering. The foundation granted the women's college $600,000 through the NSF PRISM Women Scholars Program to provide scholarships for up to 20 Saint Mary's students, beginning in the 2013-14 academic year.
The NSF PRISM (Promote-Retain-Invest in Science and Math) Women Scholars Program is designed to:
Attract current and future students to the disciplines of STEM (science, technology, engineering, and math)
Improve educational opportunities for undergraduate women pursuing STEM majors
Increase retention of STEM majors to degree achievement
Improve student support programs for women pursuing STEM careers
"This award is an acknowledgment that the College produces students well prepared to succeed in fields where women have traditionally been underrepresented," said Saint Mary's College President Carol Ann Mooney. 
"The scholarships will provide another level of support for STEM students at Saint Mary's. These are rigorous studies and support at the College for these students is demonstrated in numerous ways. Our small class sizes allow professors and even fellow students to serve as mentors. The single-sex environment is another positive attribute. According to the Women's College Coalition, women's colleges produce math and science graduates at 1.5 times the rate of coed colleges," Mooney noted.
The NSF PRISM Women Scholars Program encourages high academic achievement, promotes research and internship opportunities, encourages outreach and community service, and prepares recipients for careers and/or continued studies in STEM-related fields. The program also encourages recipients to network with their peers, provide and receive peer-mentoring support, and engage in high quality group learning activities. The ultimate goal is to develop well rounded and highly skilled STEM graduates who are prepared to meet the national need for more American scientists, engineers, and mathematicians.
The program will be in existence at Saint Mary's for four years and will benefit women who are pursuing majors in biology, chemistry, computational mathematics, mathematics, and statistics and actuarial mathematics, and/or completing the requirements for the dual degree program in engineering in conjunction with the University of Notre Dame. Those intending to pursue a career as a health care professional, however, will not be eligible.
The College will use grant funds to provide ten scholarships in two cohorts for students entering their sophomore year. Scholarship recipients will continue to receive support provided they maintain academic and social good standing and make acceptable progress toward the completion of their degree. The College will award scholarships of up to $6,500 during the student's sophomore year and up to $10,000 during their junior and senior year, depending on financial need.
"The scholarships will provide recipients financial support, as well as opportunities to gain valuable research experience, and to interact with other professionals in their field. It will help develop individuals capable of meeting the national need for more American scientists and engineers, and will employ effective practices for encouraging more students to consider STEM-related majors and careers," said Ryan Dombkowski, associate professor of biology and the project director of the College's NSF PRISM Women Scholar's program.
First-Year Saint Mary's College students interested in the scholarships may attend two "STEM Night" informational meetings. Dates will be announced to the College community later, but are anticipated for late in the fall semester (2012) and early in the spring semester (2013). Scholarships will be awarded beginning in the spring of 2013 for the 2013-14 academic year. For more information about the program, contact Professor Dombkowski.
This STEM scholarship program is one example of the College's dedication to educating women in the STEM fields. Click for information on another STEM scholarship program at Saint Mary's thanks to the generosity of the Henry Luce Foundation's Clare Boothe Luce Program. Click to read a 2011 press release about a combined $10 million gift to renovate Science Hall.
About Saint Mary's College: Saint Mary's College, Notre Dame, Ind., is a four-year, Catholic, women's institution offering five bachelor's degrees and more than 30 major areas of study. Saint Mary's College has six nationally accredited academic programs: social work, art, music, teacher education, chemistry and nursing. Saint Mary's College ranks among the top 100 "Best National Liberal Arts Colleges" for 2012 published by U.S.News and World Report. Founded in 1844, Saint Mary's is a pioneer in the education of women, and is sponsored by the Sisters of the Holy Cross.