2012 Humanitas Award Recipient Announced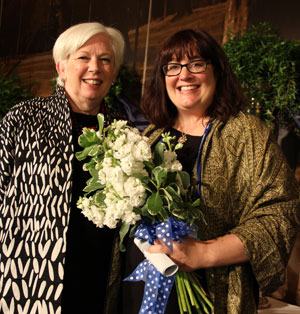 Saint Mary's College President Carol Ann Mooney '72
poses with Margaret Ann Monahan '87 following the
Reunion Banquet.Contact:
Gwen O'Brien 
Director of Media Relations
Saint Mary's College
Notre Dame, IN 46556
(574) 284-4579
June 5, 2012 (Notre Dame, Ind.)—The Humanitas Award, awarded annually by the Alumnae Association of Saint Mary's College, recognizes an alumna who is outstanding in her personal and volunteer accomplishments and is recognized for her concern for the interests and welfare of her fellow human beings. Her actions exemplify the qualities of personal dedication, compassion, selflessness and sacrifice through social action, education, and reform within the community, the church and the world. The 2012 recipient is Margaret Ann Monahan '87 of Chicago who is recognized for her compassionate spirit and her unwavering commitment to justice and healing for abused children. She received the Humanitas Award at the Reunion Banquet Saturday, June 2 as part of Reunion Weekend, May 31-June 3.
For the past 25 years Monahan has committed herself to serving others. After graduating from Saint Mary's with a bachelor of arts in psychology and communication studies, she put her empathy to work at an inner-city school extended care program in Oakland, California. She worked there for one year as a Holy Cross Associate.
Later Monahan joined the staff of an emergency shelter for abused and neglected children, where she worked as a family educator. While there, she taught herself Spanish and earned her master of social work degree from the University of Illinois at Chicago.
In 1989 Monahan joined the Catholic Charities of the Archdiocese of Chicago as a child welfare specialist. Since then she has provided crisis intervention and counseling to thousands of abused and neglected children. Most were in foster care; many were sexually abused, suffered emotional and behavioral disorders, and had special needs. Monahan works with them in their homes, their schools, and the court system—places that are often steeped in poverty and violence. She now serves as the clinical director of Youth and Family Therapeutic Services. She continues to provide individual counseling while managing the team of Catholic Charities counselors that work with victims of trauma.
Her co-workers are grateful for her dedication and leadership. Hector Rivera, Monahan's colleague for 20 years, said, "I have witnessed many instances where Margaret has put her life on hold for our clients. I truly believe that her work has a long-term and far-reaching impact on society."
Her classmates are likewise inspired by her loyalty and her life choices. In nominating Monahan for the award, Christine Bodewes wrote, "Margaret Monahan has dedicated her whole life to service of others. Words like compassion and selflessness define her very essence."
Kathleen Kennedy Whalen said, "Margaret embodies all we strive to be as Catholics guided by the Gospel. She seeks no praise and rarely discusses her job. But we see how she carries photos of some of the countless children she has helped, and we hear how she speaks about them as though each one was her child."
Click to read Monahan's remarks after receiving the Humanitas Award at the Reunon Banquet on Saturday, June 2. Click for information on the other 2012 Alumnae Association Award recipients.
About Saint Mary's College: Saint Mary's College, Notre Dame, Ind., is a four-year, Catholic, women's institution offering five bachelor's degrees and more than 30 major areas of study. Saint Mary's College has six nationally accredited academic programs: social work, art, music, teacher education, chemistry and nursing. Saint Mary's College ranks among the top 100 "Best National Liberal Arts Colleges" for 2012 published by U.S.News and World Report. Founded in 1844, Saint Mary's is a pioneer in the education of women, and is sponsored by the Sisters of the Holy Cross.