Lumen Christi Award Recipient Announced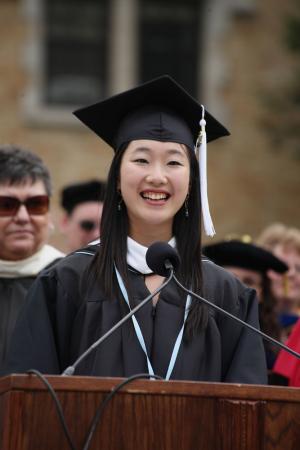 Contact:
Gwen O'Brien
Director of Media Relations
Saint Mary's College
(574) 284-4579
May 21, 2011 (Notre Dame, Ind.)—At this afternoon's Commencement, a member of Saint Mary's senior class was presented with the College's highest award. Jingqiu Guan of Chengdu, China received the Lumen Christi Award, which is presented to the senior who stands out in the College community as an outstanding Christian woman. The recipient of the award is traditionally someone who has excelled in leadership and loyalty to Saint Mary's and whose presence has had a profound effect on the College community. Jingjing, as she is called, majored in economics and French and earned minors in math and dance. The name of the recipient is not revealed until the recipient's name is read at the ceremony.
Jingjing is known as an enthusiastic, positive, and engaging woman. Faculty and students alike love her; in fact one of her faculty nominators stated "a visit from her to your office makes the day more special". Her kindness and thoughtfulness touch everyone she has met.
Jingjing is a talented pianist, dancer, and linguist. Her outstanding academic record has resulted in her being accepted at every graduate school to which she applied. She will be attending the Harvard International Education Graduate program in the fall, turning down Stanford, Notre Dame's Peace Studies Program and the University of Iowa's dance program (for which only four students are accepted). 
Jingjing has a passion for dance and has performed annually in the dance recital at the College. She completed the Intercultural Leadership Certificate program and has been active in presentations of Chinese culture on campus. This year she travelled to her homeland with the Women's Choir and acted as the Mistress of Ceremonies for the showcase during the celebration of International Student Week. She has also helped to organize the China Night program where this year she performed a duet with the daughter of a faculty member. Jingjing has no fear of the spotlight, but thoroughly enjoys sharing it with others.
She has served as the student representative to the Alumnae Board and is a member of the Center for Women's Intercultural Leadership's International Advisory Board. She embraces each new opportunity in life with an eagerness to become the person she was created to be. This year, she was received into the Catholic Church at Easter. Jingjing's dream is to have her own non-profit organization using arts education to promote social justice and peace.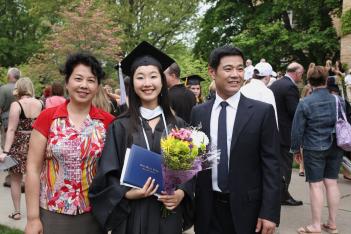 Jingqui Guan '11 poses with her parents, who came all the way from
Chengdu, China to attend Commencement.

The Class of 2011 is made up of 388 women representing 34 states, one U.S. territory, and two countries (U.S. and China). The Valedictorian for the Class of 2011 is Samantha Wassel '11, an English Writing major, originally of New Carlisle, Ind. The 2011 Commencement Speaker is alumna and mental health author/blogger Therese Johnson Borchard '93. In addition to delivering the Commencement Address, Borchard received an honorary doctor of humanities degree from her alma mater. Saint Mary's College also recognized Colleen Barrett, president emeritus of Southwest Airlines Co., with an honorary doctor of humanities degree. 
About Saint Mary's College: Saint Mary's College, Notre Dame, Ind., is a four-year, Catholic, women's institution offering five bachelor's degrees and more than 30 major areas of study. Saint Mary's College has six nationally accredited academic programs: social work, art, music, teacher education, chemistry and nursing. Saint Mary's College ranks among the top 100 "Best National Liberal Arts Colleges" in the U.S. News & World Report 2011 College Guide. Founded in 1844, Saint Mary's is a pioneer in the education of women, and is sponsored by the Sisters of the Holy Cross.