Internationalization Efforts Garner National Recognition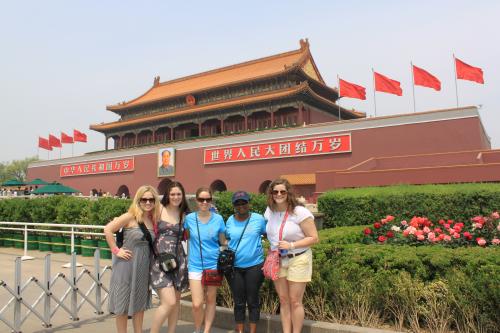 Contact:
Gwen O'Brien
Director of Media Relations
Saint Mary's College
Notre Dame, Ind.
(574) 284-4579

November 14, 2011 (Notre Dame, Ind.)—Saint Mary's College has much to celebrate during International Education/Modern Languages Week, which starts today. The 2011 Open Doors Report on International Educational Exchange, released this morning, ranks Saint Mary's College:
7th among all U.S. baccalaureate institutions for the number of undergraduate students studying abroad for an academic year (two semesters)
20th among U.S. baccalaureate institutions in total undergraduate study abroad participation
29th among all U.S. institutions (doctorate, master's, baccalaureate) in total undergraduate study abroad participation
The Open Doors Report study abroad findings are based on 2009/10 data. The Institute of International Education (IIE) publishes the Open Doors Report and releases it annually during International Education Week.
It's not the first time this fall that the women's college, with an enrollment of about 1,500 students, has been recognized for the percentage of students who study abroad. In September, U.S. News & World Report (which uses a slightly different metric) ranked Saint Mary's College among the top 100 institutions in its list "Best Colleges: Most students studying abroad." The College is ranked #42, with 51 percent of the College's 2010 graduates participating in study abroad programs. That's up from last year's ranking of #99, with 42 percent of 2009 graduates studying abroad.
Meanwhile, the 2011/12 academic year also marks the largest number of international students on campus, due in part to the opening of the English Language School (ELS). The ELS, which includes 13 students from counties such as Saudi Arabia, Rwanda, and China, prepares female international students for higher education in the United States. This year also boasts the largest international enrollment in a first year class. The Class of 2015 alone includes nine Belles from the countries of China, Kenya, Rwanda, Jordan, Canada and Mexico. The total number of international students on campus is 34.
Strengthening the College's internationalization is a priority for President Carol Ann Mooney and one of the top ten recommendations in her five-year strategic plan released in 2007 titled "The Path to Leadership 2012." Under the recommendation, 50 percent of Saint Mary's students would participate in study abroad programs by the time they graduate. The College met that goal two years early. Mooney also recommended in the plan to increase the enrollment of international students and faculty, and to internationalize the curriculum.
"Today's graduates must be prepared to work and compete with colleagues from around the globe and potentially to spend some portion of their careers living outside of the United States," Mooney said in the plan. "To prepare our students to fully participate in the emerging global community, we must expand their opportunities for international studies and further internationalize the College community and its curriculum."
The College's Center for Women's Intercultural Leadership (CWIL) oversees the study abroad program and internationalization efforts on campus.
The Open Doors Report shows an increase in U.S. students studying abroad during the 2009/10 academic year: 270,604 compared to 260,327 the previous year. The increase reflects a steady rise in study abroad numbers each year since the data has been tracked, with the exception of 2008/09, when world economic conditions caused a slight dip. According to the IIE, study abroad by students enrolled in U.S. higher education has more than tripled over the past two decades.
The number of international students at colleges and universities in the United States increased during the 2010/11 academic year by five percent to 723,277, according to the Open Doors Report. This represents a record high number of international students in the United States. It is the fifth consecutive year that Open Doors figures show growth in the total number of international students. There are now 32 percent more international students studying at U.S. colleges and universities than there were a decade ago.
Click for a press release on events related to International Education/Modern Languages Week at Saint Mary's College.
About Saint Mary's College: Saint Mary's College, Notre Dame, Ind., is a four-year, Catholic, women's institution offering five bachelor's degrees and more than 30 major areas of study. Saint Mary's College has six nationally accredited academic programs: social work, art, music, teacher education, chemistry and nursing. Saint Mary's College ranks among the top 100 "Best National Liberal Arts Colleges" for 2012 published by U.S.News and World Report. Founded in 1844, Saint Mary's is a pioneer in the education of women, and is sponsored by the Sisters of the Holy Cross.