2012 Outstanding Young Alumna Award Announced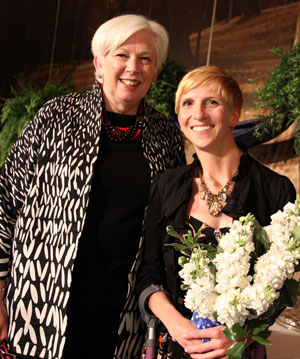 Saint Mary's College President Carol Ann Mooney '72
poses with Sarah Mahoney '04 following the
Reunion Banquet.Contact:
Gwen O'Brien
Director of Media Relations
Saint Mary's College
(574) 284-4579

June 5, 2012 (Notre Dame, Ind.)—The Outstanding Young Alumna Award honors an alumna who, within 15 years of graduation, exhibits leadership not only in her personal and professional accomplishments, but also in her involvement with the Alumnae Association or the College directly. The 2012 recipient is Sara Mahoney '04 of Washington, D.C. She received the Outstanding Young Alumna Award at the Reunion Banquet Saturday, June 2 as part of Reunion Weekend, May 31-June 3.
Mahoney currently works as a business development specialist for the U.S. Department of Labor's Office of Disability Employment Policy. In this role she manages a national recruitment program that connects college students who have disabilities with federal agencies all across the county to help them find internships and jobs. Her work is vastly important: One in five Americans has a disability, and this population is nearly twice as likely to be unemployed as people without disabilities.
Mahoney's career may seem a departure from her chemistry major at Saint Mary's. But serving others was always part of her life. She received the Outstanding Senior Award for working as a teaching assistant in the chemistry lab, coordinating Disabilities Awareness Week, and serving as the student trustee on the Board of Trustees, among other activities. Mahoney continued to serve Saint Mary's after graduation by working as an admission counselor.
She went on to earn a master's degree in student affairs administration in higher education from Ball State University in 2006. She then joined the Washington Center—a nonprofit academic internship program in Washington, D.C.—where she managed the program for interns with disabilities. From there, she moved to Georgetown University's Academic Resource Center, again focusing on students with disabilities.
In 2009 she took up her current post with the Department of Labor, sharing her skills and affirming spirit to help others find success.
And Mahoney continues her involvement with Saint Mary's. Not only does she attend meetings and events of the D.C. alumnae club, but she also recruits at college fairs, through panel discussions, and even by calling or emailing accepted students. She served on her fifth-year Reunion Gift campaign and participates in the Alumnae Resource Network.
In nominating Mahoney for this award, Debbie Johnson Schwiebert '74 wrote: "Sara is an inspiration to all those she meets. With warmth and caring, Sara demonstrates that life with a disability is a blessing and a gift. Through her own personal witness, she shows that grace, determination, and faith make all things possible."
Click to see Mahoney's remarks after receiving the recognition at the Reunion Banquet on June 2. Click for information on the other 2012 Alumnae Association Award recipients.
About Saint Mary's College: Saint Mary's College, Notre Dame, Ind., is a four-year, Catholic, women's institution offering five bachelor's degrees and more than 30 major areas of study. Saint Mary's College has six nationally accredited academic programs: social work, art, music, teacher education, chemistry and nursing. Saint Mary's College ranks among the top 100 "Best National Liberal Arts Colleges" for 2012 published by U.S.News and World Report. Founded in 1844, Saint Mary's is a pioneer in the education of women, and is sponsored by the Sisters of the Holy Cross.