Reza Aslan, Author and Scholar of Religions, to Offer 2014 Christian Culture Lecture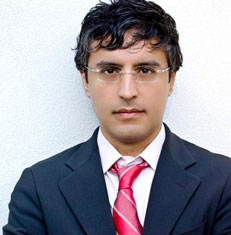 Scholar and best-selling author Reza Aslan
is the 2014 Christian Culture Lecturer.
(Photo courtesy of Hilary Jones)Contact:
Gwen O'Brien
Director of Media Relations
Saint Mary's College
(574) 284-4579
August 13, 2014 (Notre Dame, Ind.)—Saint Mary's College and the Department of Humanistic Studies proudly announce that Reza Aslan is the 2014 Christian Culture Lecture speaker. The New York Times bestselling author, internationally acclaimed scholar of religions, and professor of Creative Writing at the University of California, Riverside will offer his lecture, titled "Zealot: The Life and Times of Jesus of Nazareth," on Tuesday, September 16 at 7:30 p.m. in O'Laughlin Auditorium.
The lecture is based on his recent best-selling book by the same name. Tickets are required for this free event and are available at the Moreau Center Box Office, online, or over the phone. (Contact information is below).
"We are delighted to welcome Reza Aslan to Saint Mary's," said Laura Williamson Ambrose, assistant professor of humanistic studies and coordinator of the Christian Culture Lecture. "An internationally renowned scholar of religion and an important voice in interfaith dialogue, Reza Aslan's many published works and lectures encourage audiences to recognize the shared values underlying different faith traditions' metaphors and symbols. His most recent book examines the historical Jesus alongside the Jesus of the Gospels, making him an ideal figure to discuss the influence of Christianity on culture, which is a goal of the lecture series."
Aslan's book "Zealot: The Life and Times of Jesus of Nazareth" made it to #1 on the New York Times bestseller list in 2013. As is the case with his book, in his lecture Aslan will discuss Jesus as described in the Gospels against historical sources. Aslan describes Jesus as a man full of conviction and passion, yet rife with contradiction. He explores the reasons why the early Christian church portrayed Jesus as a peaceful spiritual teacher rather than a politically conscious revolutionary.
Aslan also wrote the international bestseller "No god but God: The Origins, Evolution, and Future of Islam," which was named by Blackwell Publishers as one of the 100 most important books of the last decade. It's available in 13 languages and was re-released with new content to coincide with the 10th anniversary of 9/11. He is also the editor of two volumes: "Tablet and Pen: Literary Landscapes from the Modern Middle East, and Muslims" and "Jews in America: Commonalties, Contentions, and Complexities." These literary anthologies use the arts to bridge the gap of understanding between East and West, and to strengthen Jewish and Muslim relations.
Aslan appears regularly in the media, including on "The Daily Show with Jon Stewart" and "The Colbert Report" and as a commentator on national news channels like NPR. He holds degrees in religion from Santa Clara University, Harvard, and U.C. Santa Barbara, as well as a Master of Fine Arts from the University of Iowa, where he was named the Truman Capote Fellow in Fiction.
The Department of Humanistic Studies sponsors the Christian Culture Lecture through the generous gift of Susan Fitzgerald Rice '61 and Donald Rice. The annual event asks a preeminent figure in the humanities to explore some aspect of the Christian dimension of Western culture.
Tickets to the Christian Culture Lecture are available at the Moreau Center box office. Go to moreaucenter.com or call (574) 284-4626. Click for a campus map.
About the Christian Culture Lecture: Saint Mary's College Professor Bruno Schlesinger introduced Christian Culture as a major at the College in 1956 and founded the Christian Culture Lecture in 1957. The major was later renamed Humanistic Studies. At its inception the lecture series was largely funded through a grant from the Lilly Foundation. By 1981, the series had become increasingly difficult to administer and it fell silent for 25 years. In 2006, the annual lecture was reinstated thanks to the generosity of Susan Fitzgerald Rice '61, Ed.D., who was a Christian Culture major at Saint Mary's, and her husband Donald B. Rice, Ph.D.
About Saint Mary's College: Saint Mary's College, Notre Dame, Ind., is a four-year, Catholic, residential, women's liberal arts college offering five bachelor's degrees and more than 30 major areas of study, such as business, nursing, art, chemistry, and social work. The College's single-gender environment has been proven, in study after study, to foster confidence, ethical leadership, and strong academic success. Saint Mary's College ranks 76 among the "Best National Liberal Arts Colleges" for 2014 published by U.S. News. Founded in 1844 by the Sisters of the Holy Cross, Saint Mary's College's mission is to educate women and prepare them for postgraduate success whether it's a first job, graduate school, or postgraduate service.