"Faith Always, Action Now" Tri-chair and Husband Challenge Others to Give

Contact:
Gwen O'Brien
Director of Media Relations
Saint Mary's College
Notre Dame, Ind.
(574) 284-4579
February 25, 2013 (Notre Dame, Ind.)—The public phase of the $80 million Faith Always, Action Now campaign for Saint Mary's College launched Friday with festivities that included a stage and video presentation in O'Laughlin Auditorium and a dinner in the Noble Family Dining Hall. The evening included some surprises, including the announcement of a fundraising challenge by Sarah Belanger Earley '71, a campaign tri-chair, and her husband, Tony Earley (ND '71).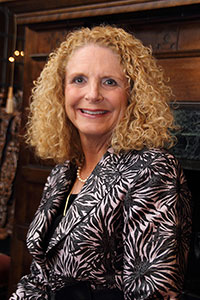 Pictured is Sarah Belanger Earley '71.
Her husband was unable to attend the
"Faith Always, Action Now" campaign
launch.The Earleys generously offered a match of $1 million to assist in raising funds for the renovation and enhancement of Angela Athletic Facility, which will become the Angela Athletic & Wellness Complex. Every two dollars pledged to the project will be matched by one dollar from the Earleys, meaning this match would raise $3 million. This will energize fundraising for the Angela portion of the campaign, which is $14.8 million. The match will include any gift or pledge to the Angela Athletic & Wellness Complex, from now until the close of the campaign on December 31, 2014.
Earley, who has stayed close to her Saint Mary's roots throughout her life, credits the College for providing her with a supportive environment that enabled her to form her values. "I learned who I am, who I can be, what I'm capable of," she said, adding, "Saint Mary's future is in our hands."
Saint Mary's College President Carol Ann Mooney said of the Earleys' challenge, "Sarah has demonstrated her devotion to and love for Saint Mary's College throughout this campaign and in the many years she has served the College as a valued member of the Board of Trustees and the Alumnae Association Board of Directors. The Earleys' gift will be a catalyst for additional gifts to the Angela Athletic & Wellness Complex. This new complex will help students, as never before, establish and maintain lifelong healthy lifestyles."
The vision for the Angela Athletic & Wellness Complex is to provide one location on campus where students can go to maintain a healthy lifestyle. The new complex will bring Women's Health into Angela. The office provides students with doctor's clinics, allergy and flu shots, prescription distribution, counseling and other services. Meanwhile, the complex will boast improved and expanded court and field space as well as additional fitness space for cardio and weight training.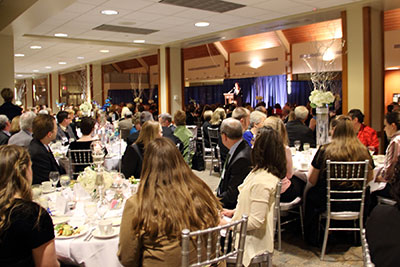 A dinner celebrating the public launch of the "Faith Always,
Action Now" campaign was held on campus February 22.The existing Angela was dedicated in September of 1977 and, with women's collegiate athletics taking off at the time, it didn't take long for the College to outgrow the space. The new Angela Athletic & Wellness Complex will be more than twice the size of the current facility. The existing Angela is approximately 42,000 sq. ft., all of which would be renovated. The addition would add 65,200 sq. ft. creating a total of 107,200 sq. ft. for the complex.
Athletics is a strong component of the identity of Saint Mary's College. There are:
Eight varsity sports that compete in the MIAA (Michigan Intercollegiate Athletic Association), including basketball, soccer, tennis, cross country, softball, volleyball, golf, and swimming and diving (varsity lacrosse will be added in 2013-14)
120 women who compete on intercollegiate teams (8.3 percent of students)
Nearly 40 percent of students participate in intramural sports annually
Six club sport activities, including volleyball, dance, cheerleading, lacrosse, a boxing club, and a western equestrian team.
Director of Athletics Julie Schroeder-Biek '88 expressed gratitude to the Earleys for their fundraising challenge. "The Earleys have been so generous to Saint Mary's College throughout the years.  This challenge gift highlights the great need to renovate and expand our current facility. Their donation will have a major impact on inspiring the generosity of others to help us realize our plans for the new Angela Athletic and Wellness Complex," she said.
This is the Earleys' second gift to the Faith Always, Action Now Campaign. Their first campaign gift has established two need-based scholarships at the College – one in honor of Sarah's mother, Margery Guillaume Belanger '40.
Faith Always, Action Now is the largest comprehensive fundraising campaign in the College's 169-year history. The campaign was approved by Saint Mary's Board of Trustees in June 2008 to grow the College's endowment for scholarships, professorships, and academic programs, renovate designated campus facilities, and increase unrestricted gifts for the College through the Annual Fund. Seventy-five percent of the campaign goal has been reached thus far through gifts and pledges.
Those interested in giving to the Faith Always, Action Now, may contact Vice President for College Relations Shari Rodriguez at (574) 284-4581 or srodriguez@saintmarys.edu.
About Saint Mary's College: Saint Mary's College, Notre Dame, Ind., is a four-year, Catholic, women's institution offering five bachelor's degrees and more than 30 major areas of study. Saint Mary's College has six nationally accredited academic programs: social work, art, music, teacher education, chemistry and nursing. Saint Mary's College ranks among the top 100 "Best National Liberal Arts Colleges" for 2013 published by U.S. News. Founded in 1844, Saint Mary's is a pioneer in the education of women, and is sponsored by the Sisters of the Holy Cross.