Professor/Chair of Department of History Honored with Maria Pieta Award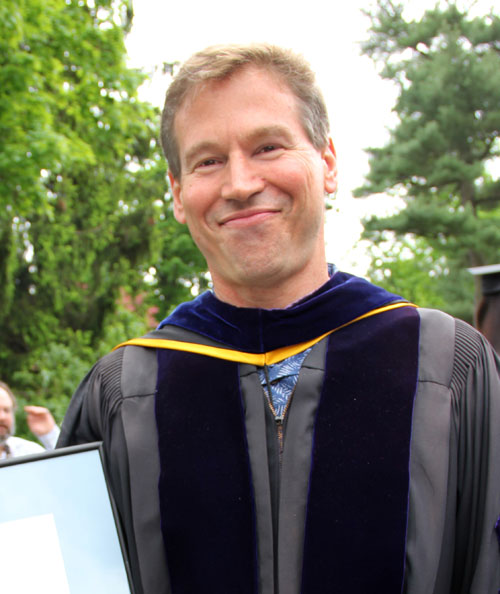 Professor William Svelmoe, a 2012
recipient of the Maria Pieta Award. Contact:
Gwen O'Brien
Director of Media Relations
Saint Mary's College
(574) 284-4579
May 8, 2012 (Notre Dame, Ind.)—Saint Mary's College President Carol Ann Mooney presented William Svelmoe, professor and chair of the Department of History, with the Maria Pieta Award at Honors Convocation on Sunday, May 6. The Maria Pieta Award was established in 1976 in honor of Sister Maria Pieta, CSC, who was a teacher and an administrator at Saint Mary's College. The award recognizes the quality of teaching in courses for freshmen and sophomores.
According to his award citation read by Senior Vice President and Dean of Faculty Patricia Fleming, Svelmoe is a gifted teacher who inspires students and cares deeply about them. He is recognized for engaging students in critical issues above and beyond what they learn in their readings, and he does so in an intellectually stimulating way. Above all else, he encourages critical thinking in the classroom. Students do not merely respond on the basis of what they have read in their texts, they generate new ideas and perspectives. According to the citation, his students consider his classes challenging, stimulating, engaging, and exciting.
Svelmoe's teaching style motivates his students to read material beyond what he has assigned, the citation states. One student writes, "I learned more than I ever thought possible." She adds that he "has changed my life for the better. He inspires me to achieve and pushes me to succeed."
Called a "gifted and accomplished teacher" in the citation, Svelmoe is said to care about his students as individuals and does his best to help them succeed in their studies at Saint Mary's and in their future careers. Another student writes that although his classes are consistently full, "he rarely turns away a student who is eager to learn." He is also said to be equally generous with his time in taking on an independent study for a student with a special interest in his field.
As noted in the award citation, Svelmoe, often attired in a Hawaiian shirt and always displaying a zestful sense of humor, brings history to life in every class he teaches. A novelist who draws upon his own upbringing as the child of missionaries in the Philippines, a dedicated and talented teacher in the College's Writing Proficiency Program, and now as Department Chair, he has rearned the tribute of a student who writes that he "molds the minds of Saint Mary's women on a daily basis."
Students, faculty and staff nominate candidates for the Maria Pieta Award and the Academic Affairs Council selects the honoree. The name of the recipient is not revealed until the Convocation.
About Professor William "Bill" Svelmoe: Bill Svelmoe is chair and associate professor of history at Saint Mary's College. He completed a bachelor's degree in English literature at the University of California Irvine, a Master of Divinity degree at Talbot Theological Seminary, and a M.A. and Ph.d in American history at the University of Notre Dame. He has published articles and a book on the history and culture of early 20th century Protestant missions. He has also published a novel loosely based on his childhood growing up on a mission base in the Philippines.
About Saint Mary's College: Saint Mary's College, Notre Dame, Ind., is a four-year, Catholic, women's institution offering five bachelor's degrees and more than 30 major areas of study. Saint Mary's College has six nationally accredited academic programs: social work, art, music, teacher education, chemistry and nursing. Saint Mary's College ranks among the top 100 "Best National Liberal Arts Colleges" for 2012 published by U.S.News and World Report. Founded in 1844, Saint Mary's is a pioneer in the education of women, and is sponsored by the Sisters of the Holy Cross.