Saint Mary's Position in U.S. News Rankings Remains in the Top 100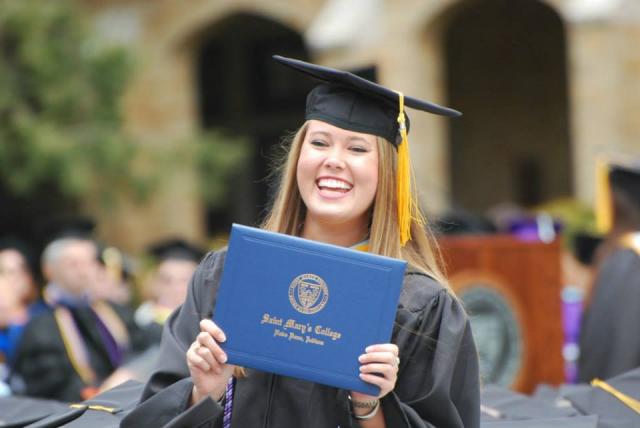 Contact:
Gwen O'Brien
Director of Media Relations
Saint Mary's College
Notre Dame, Ind.
(574) 284-4579
September 9, 2014 (Notre Dame, Ind.) — Saint Mary's College remains in the top 100 of the highest ranked colleges in the U.S. News & World Report's Best National Liberal Arts Colleges list. The College has been in the top 100 for six years running, this year coming in at 96 out of country's 249 liberal arts colleges. Access to the national rankings can be found beginning today online or printed in the new "Best Colleges 2015" guidebook, available in stores starting September 23.
"I am very pleased that Saint Mary's College continues to rank among the top 100 Best National Liberal Arts Colleges," said Saint Mary's College President Carol Ann Mooney. "Students graduate from Saint Mary's with an education that challenges their minds, awakens their imaginations, and instills in them the desire to leave the world a better place. They are supported by dedicated faculty and a campus community that helps them to succeed."  
Saint Mary's College's strong graduation and retention rates are among the factors that contribute to its performance in the U.S. News rankings. At Saint Mary's, approximately 93 percent of students who graduate earn a degree in four years. This is favorable in comparison to the percentage of graduates that complete a degree in four years at other non-profit private (78 percent) and public institutions (52 percent).* Saint Mary's is so confident its students will graduate in four years, in the fall of 2013 the College rolled out its Four Year Graduation Promise. Starting with the Class of 2017, students who follow the promise's guidelines are guaranteed to graduate in four years or the College will pay for any additional courses a student needs to earn her degree.
The U.S. News college rankings, which group schools based on categories created by the Carnegie Foundation for the Advancement of Teaching, is a tool for students and parents considering higher education opportunities. The Princeton Review recently ranked Saint Mary's among the Best in the Midwest for the 12th consecutive year. There are other measures/indicators of academic quality/value as well. For instance, according to recent research from the Office of Institutional Research at Saint Mary's College, one year after graduation 93 percent of May 2013 graduates were either employed or enrolled in graduate or professional school, while more than 6 percent were involved in service commitments.
*These figures are based on the percentage of total graduates in eight years who graduate in four-years or less.  Data comes from the National Center for Educational Statistics IPEDS Data Center using the 2003 entering cohort data graduating in eight years.
About Saint Mary's College: Saint Mary's College, Notre Dame, Ind., is a four-year, Catholic, residential, women's liberal arts college offering five bachelor's degrees and more than 30 major areas of study, such as business, nursing, art, chemistry, and social work. The College's single-gender environment has been proven, in study after study, to foster confidence, ethical leadership, and strong academic success. Saint Mary's College ranks among the top 100 Best National Liberal Arts Colleges for 2015 published by U.S. News & World Report. Founded in 1844 by the Sisters of the Holy Cross, Saint Mary's College's mission is to educate women and prepare them for postgraduate success whether it's a first job, graduate school, or postgraduate service.