Professor/Developer of Women's Entrepreneurship Initiative Honored with Spes Unica Award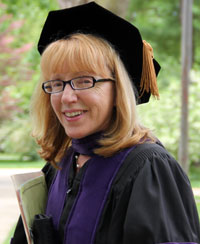 Professor Susan Vance, a 2012 recipient
of the Spes Unica Award. Contact:
Gwen O'Brien
Director of Media Relations
Saint Mary's College
(574) 284-4579
May 8, 2012 (Notre Dame, Ind.)—Saint Mary's College President Carol Ann Mooney presented Susan Vance, professor of business law and accounting and the developer and visionary of the Women's Entrepreneurship Initiative (WEI) with the Spes Unica Award at Honors Convocation on Sunday, May 6. The Spes Unica Award recognizes a faculty member's eminent service to Saint Mary's College. Contributions can be in the area of teaching, scholarship/ creative activity and/or service.
 According to her award citation read by Senior Vice President and Dean of Faculty Patricia Fleming, Vance operates at one speed only—high gear. For more than 30 years departmental colleagues, the College, the community, and students have reaped the benefits of Vance's nonstop energy and penchant to get things done.
The professor draws extensively on personal life experiences to direct and motivate her teaching. Ten years ago she created an elective course on financial literacy to provide students in all majors an opportunity to learn "all they need to know" about the real world of insurance, financial planning, 401(K)'s, rental contracts, employee benefits, etc. The course Financial Success Strategies for Women will be offered for credit as part of the new College's new general education program. It is part of the legacy Vance will leave the College as she is retiring from Saint Mary's this spring. She will teach one more semester in the fall.
Another of Vance's passions is women's entrepreneurship. She worked tirelessly in conjunction with Center Women's Intercultural Leadership to launch WEI. In addition, she developed and taught four new courses in entrepreneurship. One exciting and visible result is "Twist O'Luck," a soft-drink company founded by students enrolled in her New Venture classes.
Her peers describe Vance's departmental service as above and beyond the call of duty. She served two three-year stints as chair of the Department of Business Administration and Economics, plus two additional semesters to replace department chairs on sabbatical. Another colleague cited her strong leadership and ability to motivate people to do better, to go to the next level, to give credit to those who deserve it, and encouragement to those who need it.
About Professor Susan Vance: Susan Vance is senior project director of the Saint Mary's College Women's Entrepreneurship Initiative (WEI). WEI provides assistance to local women who want to start or grow their small business and internally provides entrepreneurship opportunities for women students. She s a licensed attorney and a certified public accountant (inactive). She received the Charles E. Hewitt Excellence in Teaching Award from the Academy of Legal Studies in Business (ALSB). In addition, Susan was selected by the students at Saint Mary's College to receive the first annual "Woman of the Year" award in 1997. That same year, she was honored as a "distinguished alumna" of Thomas Cooley Law School.
About Saint Mary's College: Saint Mary's College, Notre Dame, Ind., is a four-year, Catholic, women's institution offering five bachelor's degrees and more than 30 major areas of study. Saint Mary's College has six nationally accredited academic programs: social work, art, music, teacher education, chemistry and nursing. Saint Mary's College ranks among the top 100 "Best National Liberal Arts Colleges" for 2012 published by U.S.News and World Report. Founded in 1844, Saint Mary's is a pioneer in the education of women, and is sponsored by the Sisters of the Holy Cross.