Class of 2020 Celebrating Together
A Personal Perspective
by Elyse Paul '20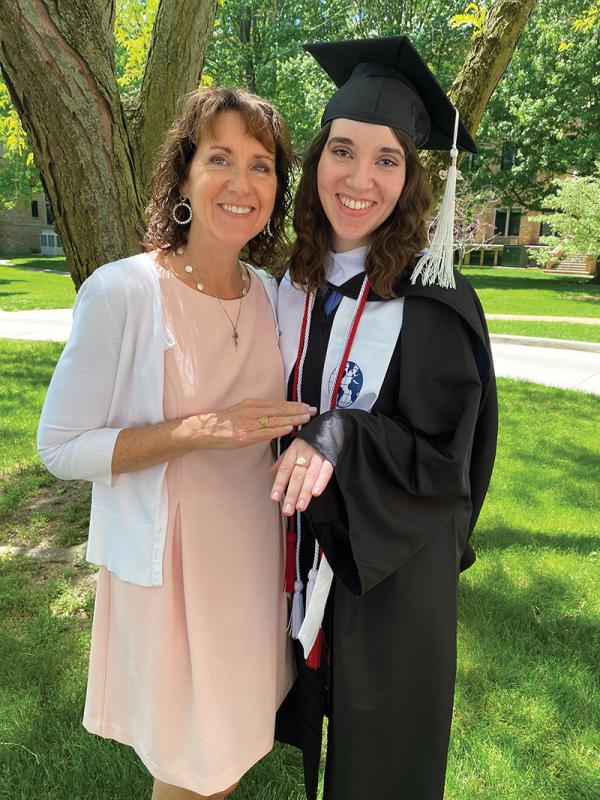 As a 2020 graduate, reuniting with my best friends for the weekend's Commencement Celebration was surreal. For two years, after being abruptly separated in March 2020, we hoped for a traditional celebration with all the pomp and circumstance. On Saturday, May 28th 2022, my classmates and I made an extraordinary comeback to campus to celebrate our undergraduate accomplishments and to catch up on where we've been during the past couple of years. Our time together on campus again felt like stepping back in time to a chapter of our lives we hold so dearly in our hearts. It was a true gift to return home and properly commemorate our accomplishments.
Seared into my memory is that moment in March 2020 when we found out classes would transition to virtual instruction. I was shopping for a dress for Commencement Ball—one of the eagerly anticipated senior week events. We were told spring break would be extended by another week to give professors time to adapt to virtual instruction and that the College hoped to bring students back soon.
Many tears of uncertainty were shed during these early weeks while I desperately hoped I could return to my dorm room in Le Mans Hall. As the light of hope dimmed, our class mourned the loss of a "normal" senior week, Commencement ceremony, and a proper goodbye to everyone who had impacted us.
Despite the separation, we found ways to stay connected to our alma mater and found unexpected moments of joy even apart from each other. We acted as technology consultants for our professors. We sent mail to fellow students with encouraging words as we navigated a new way of life. When senior week arrived, we celebrated virtually. My friends and I called each other on Facetime, cooked breakfast, and danced on top of couches in our living rooms blasting Beyonce's "Love On Top" for our own version of Late Night Breakfast. My mom, Deanne Isabelle Paul '90, Zoomed her classmates and other alumnae to toast my accomplishments for a unique twist on the alumnae Champagne Brunch. Other alumnae sent messages to remind us that our predicament would never undermine all we had accomplished at Saint Mary's. On the day of virtual Commencement, my friends and I called each other to cheer when our names were read.
Fast forward two years after that online ceremony, and remarkably more than half of the Class of 2020 returned to campus to celebrate together. Since May 2020, some of us have earned graduate degrees, started careers, and some have married and welcomed future Belles into the world. Although our lives have gone in many directions, returning to campus felt like nothing changed.
Just as promised, The Avenue led us home for a joyous celebration. Our friends were reunited and campus bustled with that distinct graduation excitement. Because we had already said our hard goodbyes, this ceremony felt bigger than Commencement. It was a commemoration and a reunion all at once. Graduates stayed in Le Mans Hall, pushed beds together for a weekend sleepover, and were reintroduced to shower shoes and communal bathrooms. Of course we checked to see if our old dorm rooms were unlocked to sneak a peek, and we applauded the installation of air conditioning units and other renovations the campus had seen in the past two years.
While our Commencement weekend did not bring together our entire class, 220 of us stood proudly as a representation of our combined accomplishments during an unprecedented year. I can attest that there were two things that my classmates and I desperately wanted to do at our postponed commencement. We longed to experience a proper closure to our time as students, and we wanted to express our gratitude to professors, staff, and other members of the Saint Mary's community who played an important role as mentors to each of us. Our celebration did exactly that and more. Over the course of the weekend, we finally filled the gap in the Le Mans tunnel with our handprints, we opened our circle, we took our "final" walk down The Avenue, and we personally thanked our beloved faculty and staff for all they had done for us.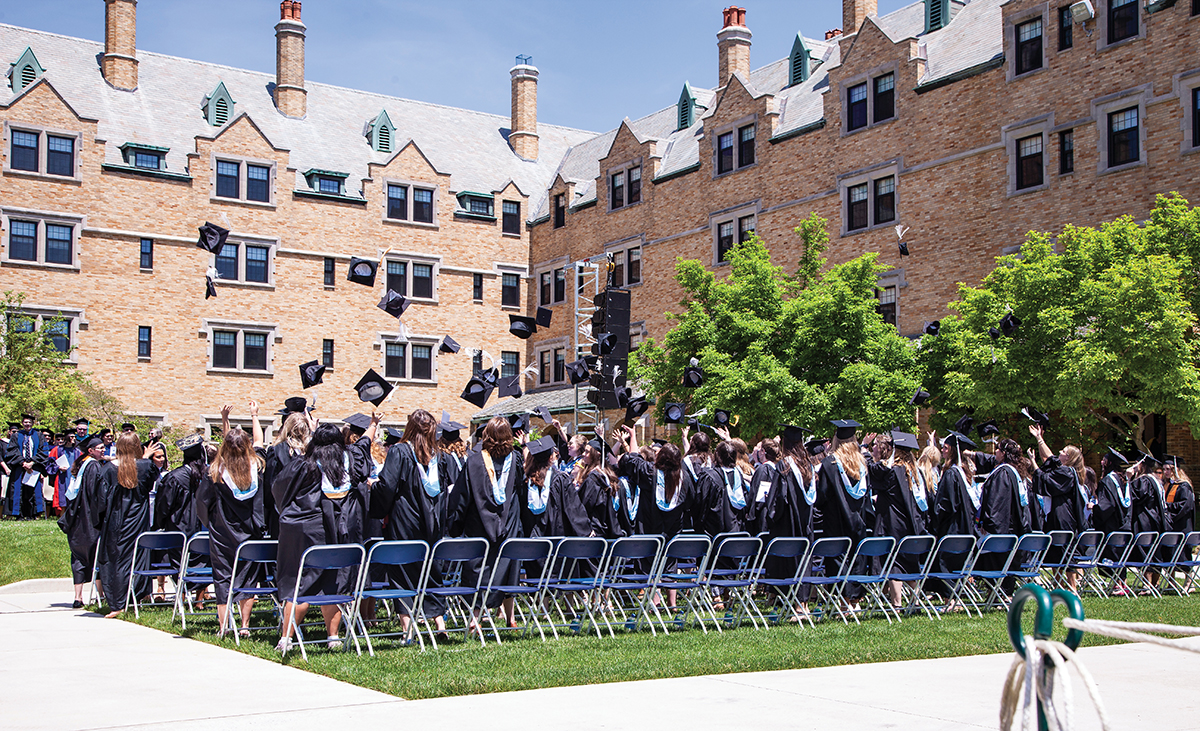 On Saturday morning, Commencement day, the weather looked exactly as it did two years earlier, a sunny and clear sky. I believe it was divine providence. At noon, we processed through the doors of Le Mans Hall as faculty, staff, and parents cheered. The sight brought so many emotions. Seeing my classmates one-by-one in the procession, savoring the moment we had longed to experience was absolutely euphoric. We were walking the walk we had dreamed of just as alumnae before us had walked. Nancy Nekvasil, former interim president of Saint Mary's during the spring of our senior year, fittingly served as our Commencement speaker. Her words and the remarks of many others described our strength and resilience in times of extreme stress and uncertainty.
When I look back, I may recall the trials we overcame to get to this moment, but above all, I will remember our beautiful outdoor Commencement that Saint Mary's made possible, two years later, to properly mark the occasion. Our triumphant return is a testament to the love that alumnae hold for Saint Mary's and its long-standing traditions. Saint Mary's commitment to tradition and community was displayed through all the efforts to bring us all back together. Those sentiments were wholeheartedly demonstrated as each member of the Class of 2020 crossed the stage as strong, resilient, patient, and deserving women. †